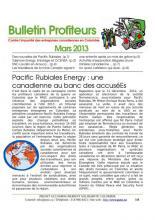 Members of the Indigenous community of Cerro Tijeras in northern Cauca Department, south-western Colombia, have been killed and others possibly forcibly disappeared. Further death threats against Indigenous Peoples in the area have also been reported.
The Colombian oil company Ecopetrol announced she will not be renewing mid-May-2016 the contract allowing Pacific Rubiales' exploitation activities in the most important oil field of the country, handing over to the state-managed Colombian company the last 65 000 barrels per day of its production.

We are glad to announce, through a communiqué released by the People's Congress, that with the help of many people and institution's joint actions, there will be further developments in the case. The file has been transferred to Bureau 98 of the Human Rights and International Humanitarian Law Unit of the State's Attorney General's office. This is an important step, but only the beginning of a series of necessary actions in order to identify the people responsible for this crime.
From August 15-30 2015, a new Caravan for the Defense of the Land will take place in Colombia, with the goal of shedding light on the human rights situation and land issues in both urban and rural areas. It will also denounce the prison crisis and the country's extradition policies.