The training process for accompaniment takes place on varying dates. If you have any questions, please write us here
To take part in the training process, you simply have to send us a completed application form : download the application form.
What is international accompaniment?
One of the solidarity strategies PASC has been implementing since 2003 is international accompaniment, which consists of ensuring a physical presence along side social activists who are victims of political threats. An international presence, along with other forms of political pressure, have a dissuasive effect on perpetrators of political violence. Accompaniment therefore serves as a means of protection for social activists; It allows them to pursue their work and also helps legitimize what they do in the eyes of local officials.
Visibility
Another aim of the accompaniment is to raise the profile of the issues experienced and the projects undertaken by the social organizations fighting to defend life and territory. As much as possible, the accompaniers help document the social conflicts in the places where they are present and support the members of the organizations in their interactions with the local authorities.
Autonomy of social organizations
Accompaniment offers support for struggles led by and for local organizations, and is only provided at their request. This strategy aims to increase the space for organization and political action for social activists.
Mutual solidarity between social movements
As social and political support for resistance processes, accompaniment creates a space for exchanges between activists with a view to forging links of solidarity between social movements in the North and South. The sharing of experience and knowledge is fuelled by collective popular education initiatives designed as exchanges in support of both the self-determination of Colombian communities and the enrichment of social struggles in Canada.
Providing Accompaniment
Image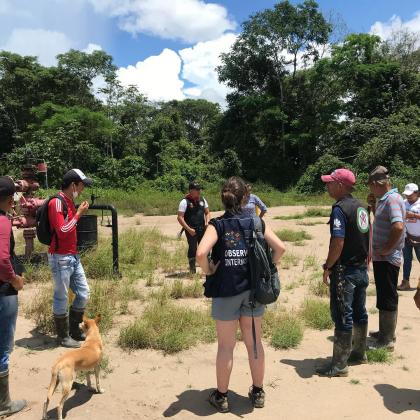 Accompaniment on the ground is done with organizations that belong to the Red de Hermandad.
Length
The length of a stay may vary between three months and a year, depending on the availability of the person providing the accompaniment. There are sometimes shorter stays available when there are special events requiring short term accompaniment.
Types of accompaniment
The type of accompaniment provided is based on the needs and priorities of our partners,  as well as on the experience and interests of the person carrying out the accompaniment.
Some examples of activities that accompaniment field work may include:
physically accompanying local activists in their advocacy work;
providing a physical presence in communities faced with the threat of military or paramilitary incursion and, in the case of incursion, communicating with armed forces;
taking notes on military activity in the region and on the human rights situation in order to complete detailed reports that will be shared with participating organizations;
action research (interviews, investigations) on the ground into economic interests (with an emphasis on Canadian interests) that contribute to violence in the region;
visiting communities in resistance that wish to share their experiences and denounce the crimes  they are dealing with;
participating in the organization of public campaigns and events along with our partners;
visiting political prisoners and their families;
representing PASC in dealings with local authorities and with the Canadian embassy;
organizing popular education workshops on advocacy, continental economic dynamics, food sovereignty, etc;
doing sociocultural work with children: art workshops, educational activities,  festive events...
Image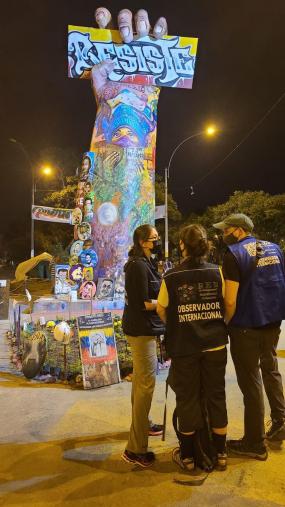 Projects
Depending on the skills of the person doing the accompaniment, special projects may also be developed, such as : 
contributing to psychosocial work being done by our partners with victims of State crime;
contributing to legal work being done by our partners (legal defense, undertaking recourse through the Inter-American Commission on Human Rights, legal research, etc.);
contributing a participatory educational event or action in a specific field that helps to reinforce the autonomy of communities (ecological agriculture and construction, community health, community media, etc.);
media diffusion project (audio, video, or photo report).
Cost
PASC does not receive regular funding, so all costs relating to the basic operations of the project are covered by donations made in solidarity by other Canadian organizations. For this reason, the costs related to accompaniment trips are the responsibility of participants. PASC can, however, offer help in organizing fundraising events and help participants in obtaining donations.
Collaboration with Universities : Please note that it is sometimes possible for students to receive university credits as well as bursaries for accompaniment work done with PASC. Procedures vary from school to school.
Coordination
A field work plan is elaborated by the partner organization seeking accompaniment. Usually the person doing accompaniment joins a "ground unit". The main space for coordination is within the ground unit, where participants can consult with and support one another. The ground unit does, however, remain in constant contact with members of PASC in Canada, and all decisions pertaining to the kind of accompaniment to be provided, PASC's strategy, risk analysis and security standards are made together with the Collective.
Risks and Security
Accompaniment involves certain risks due to open armed conflict in certain regions and to the overall context of low-intensity conflict throughout Colombia. Human rights advocates are constantly threatened and their work is consistently discredited and often criminalized. A person doing international accompaniment, however, is in a privileged position due to their Canadian citizenship. Holding a legal stay permit; having access to a large support network of  Canadian, International, and Colombian NGO's; being clearly identified as a person providing accompaniment; supervision and monitoring provided by established local organizations; communication with the Canadian embassy and Colombian authorities; and strictly adhering to security norms are all mechanisms that help to ensure security conditions for international accompaniment.
Risks are always made clear to participants. Throughout the training process, participants acquire the necessary skills to perform regular risk assessments and develop security strategies. Accompaniment teams are required to respect all security norms set out by PASC (whether in respect to the handling of information, interactions with armed forces, traveling in areas of open conflict, etc.).
Selection Process
Requirements and responsibilities
The following criteria allow us to evaluate candidates for accompaniment and adjust the objectives of the training process to the particular needs of participants :
Before leaving for Colombia, a person wishing to undertake an accompaniment project must :
Be aged 21 years or older (there are certain exceptions);
Live in Canada (to facilitate the training process);
Have a good knowledge of Spanish as well as a sufficient knowledge of French to allow participation in all training activities (reading material and workshop participation);
Have completed the training process before departure;
Be available to provide accompaniment for at least 3 months (except in the case of special events);
Commit to organizing a report back activity and to actively participating in PASC activities upon return to Canada;
Be able to adapt to challenging physical and psychological conditions;
Share an anti-imperialist vision of solidarity; (see for example : Decolonize Our Solidarity)
Have an understanding of the Colombian sociopolitical context and of the dynamics of social and armed conflict;
Have an open mind and be able to respect the autonomy of communities and local organizations;
Be able to identify and adapt to situations involving risks within a context of low-intensity conflict or open armed conflict;
Be able to work well in a team and make decisions by consensus;
Have some experience of significant intercultural exchange in Canada or elsewhere;
Be flexible and adapt easily to change;
Be psychologically and emotionally stable enough to work under pressure in the face of risk.
Application form
Applicants wishing to undertake a accompanying visit to Colombia must complete the application form. Only applicants who have duly completed the form will be contacted for an introductory meeting.
Send your form to info@pasc.ca.
Introductory meeting
Candidates will be contacted by members of the collective to schedule a personal interview upon reception of the completed form.
Training Process
The training period is a process that takes place over a minimum of three months which includes several readings, group trainings, as well as individual follow-up meetings. Throughout the process, with the help of PASC collective members, candidates must actively prepare for their field work (making contact with our partner organizations, developing skill-sets, outlining a work plan, etc.) as well as attend to the logistics of the trip (preparing a visa application, vaccinations, insurance, etc.).          

Training sessions are made up of workshops, discussions,  individual and group exercises, as well as scenario simulations.

Training sessions address the following themes:
Colombian conflict in the continental context
The history and actors in the conflict
The civil resistance process in Colombia
Mechanisms and impact of low intensity conflict
Human rights advocacy: strategies and concepts
International accompaniment
Security and risk analysis
Introduction to psychosocial intervention
Stress and fear management
The work of our partner organizations
Report back
All people carrying out accompaniment commit to creating a "report back" activity after their trip to Colombia in order to share their experiences with their networks. This activity may take the form of a conference or workshop in the community organizing, union, or university context, a public event, photo exhibit, or presentation of a written, video, or audio report, or an art project. We also count on those doing accompaniment to participate in organizing training activities for future accompaniment teams. As the PASC's existence relies on the active involvement of its members, participants are also invited to join the collective upon their return to Canada in order to be fully involved in the organizing of the project.
The experience gained by the accompaniers in Colombia is also shared with the collective, enriching our work and improving our practices.
As PASC's operations are based on the militant involvement of its members, the accompaniers are invited to join the collective on their return to Canada to participate fully in the organization of the project. Long-term involvement in the collective is encouraged but is not a requirement for accompaniment.