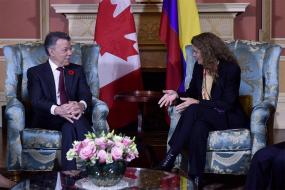 As the Canadian government prepares to welcome President Juan Manuel Santos to Ottawa for a State visit (October 29-31), the Americas Policy Group (APG) is calling on the Colombian President to bring an end to a disturbing wave of attacks against social leaders and human rights defenders, to advance without delay the implementation of the Peace Accord signed last year with the Armed Revolutionary Forces of Colombia (FARC), and to redouble efforts to reach a peace agreement with the National Liberation Army (ELN).
APG – a coalition of 32 civil society organizations of the Canadian Council for International Co-operation (CCIC) – joined many others in applauding the efforts of President Santos and his government to pursue a negotiated political settlement with Colombia's largest guerrilla group, the FARC. These efforts led to the historic signing of a Peace Accord in 2016 and resulted in President Santos being awarded the Nobel Peace Prize. Yet despite the signing of this accord, peace has not yet come to Colombia.
APG members are deeply disturbed by the surge in targeted attacks, including assassinations of labour activists, social leaders and human rights defenders in various regions of Colombia:
Over 310 community-based, human rights and social organizations in Colombia are currently at risk, including LGBTQI+ groups.
81 leaders have been murdered in the past year alone: one every four days. Many more have received death threats, or have been subjected to other forms of stigmatization, attack and intimidation. Victims include feminist and women's rights defenders, Indigenous and Afro-Colombian community leaders, trade unionists, members of political and social movements, land rights and environmental activists, and those campaigning in favour of the peace process and against impunity.
Many of those affected have been targeted by paramilitary groups, which have been active this year in 275 Colombian cities and towns located in 28 of the country's departments.
State security forces have also been implicated in violations, most recently this past October 5 when police agents fired into a crowd of farmers protesting the government's forced eradication policy of the coca leaf, leaving 6 dead and 20 others wounded in the south-western region of Tumaco.
The Canadian government has expressed its strong support to peace and human rights in Colombia. It is incumbent on Canada to raise concerns with President Santos around the ongoing attacks against social leaders as well as the slow pace, or in some cases, failure of the Santos government to implement the Peace Accord – a fact that has led to protests throughout Colombia and expressions of concern by the Office of the UN High Commissioner for Human Rights in Colombia.