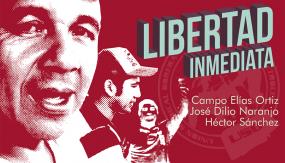 The USO leaders unjustly detained in La Picota are shortly to receive a visit from a Democratic US Congressman who wishes to show his concern about the recrudescence of trade union persecution in Colombia.

The status of Campo Elías Ortiz, José Dilio Naranjo, and Héctor Sánchez, detained in Bogotá's La Picota prison, is rather complex. They are located in a high-security pavilion where they share a wing with members of criminal gangs and paramilitaries. The USO has filed complaints domestically and internationally to move them to a different wing, but so far no change has been made. The government has provided neither support nor sufficient guarantees. Added to this is a concern for the safety of Darío Cárdenas, who is being held in Villavicencio prison.

"We are watching progress on the steps we have taken to free our colleagues with the upper echelons of government, with the Attorney General's office, and with the international campaign [for their freedom]. These unfortunate events are part of a strategy designed by Pacific Rubiales to get rid of this union, or at least put a damper on its political activities in Meta Department," said Ludwig Gómez, USO Secretary for Legal Affairs.

The arrests took place against the backdrop of a USO campaign for better working conditions. The union has held meetings at which the government committed to helping resolve the conflict. However, the arrival of the annual court holiday period interrupted further proceedings, and only now are court officials returning to their posts. The hearing to decide whether the detained leaders can be released is to be held on February 12. Their attorneys will argue that the arrest and detention measures taken against them were invalid.

The visit of the Democratic US congressman comes within this delicate context. He will be taking stock of labour-related commitments made under the US-Colombia free trade agreement, especially as regards trade union activities. But he will also hold a meeting with the Attorney General to request full guarantees of due process with respect to the USO, and in particular with respect to its detained leaders. Finally, he will speak with them in person at La Picota.