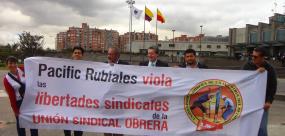 Today, May 30, 2013, activists from the Mining Injustice Solidarity Network made their way into the Kensington Room of the King Edward Hotel, in Toronto, where the Annual General Meeting of Pacific Rubiales was taking place. They handed out a press release from the Union of Oil Workers (USO), announcing the Colombian union's lawsuit against Pacific Rubiales for violations of the right to freedom of association.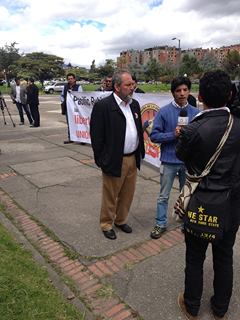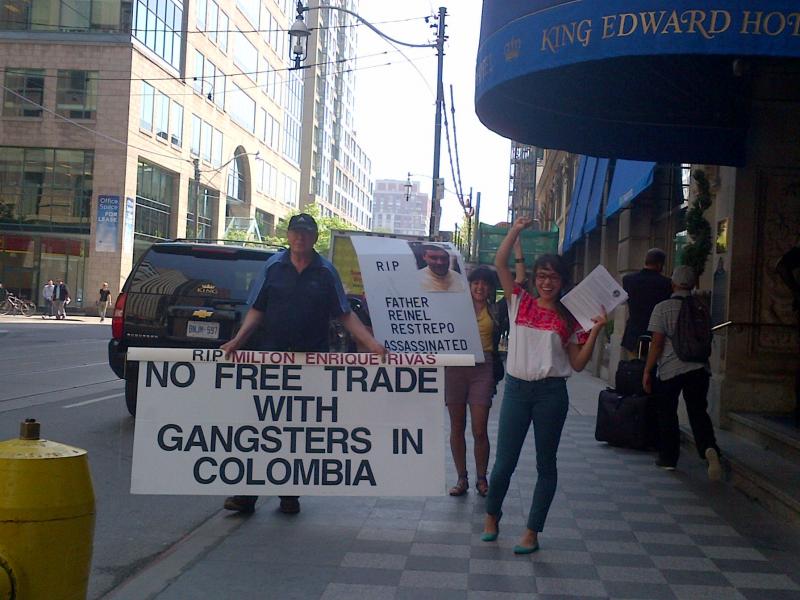 Activists took the floor to ask for the oil company's official stance on the right of workers to unionise. Pacific Rubiales  denied that they had violated the right of workers to unionise, arguing that the company had not fired 3,000 employees . By stating this, they informed shareholders for the first time that the lawsuit was taking place. The company affirmed that 57% of their workers were already affiliated with another union, UTEN. Pacific Rubiales described USO as violent, alleging that USO members had attacked their employees.

When asked about the Colombian Congress committee advocating for the non-renewal of Pacific Rubiales' contract in Campo Rubiales -- their most productive oil field -- the company downplayed the percentage of the contract that could be cancelled in 2016. They stated that by that time, the part of the contract in question would represent only 5% of their overall reserves. The company is currently requesting the renewal its contract at Campo Rubiales and Quifa for the next 25 years.

Activist remained in front of the AGM with signs for a several hours.