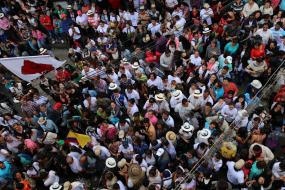 COSAJUCA informs the public opinion that the 28th of July at 7:30pm close to the hamlet of Cajamarca, exactly on the road to the Rincón Placer and Ciudadela Ismael Perdomo, two members of COSAJUCA were victims of an outrage with firearm. Fortunately, these two persons where not hurt from the two shots that were made from a house on street 9. The two members of COSAJUCA were carrying out activities related to human rights, territory and water defence.
We would like to recall that COSAJUCA has already lost two members in the past: Juan Camilo Pinto in 2013 and Daniel Humberto Sánchez in 2014, and that four years ago we have started to be victims of all sorts of threats for defending our territory from the impacts of La Colosa mining project, which has been put in hold after the historical Popular Consultation held in our municipality the past 26th of March.
We request authorities like the General Public Prosecutor´s Office to act in an efficient manner in order to identify the people responsible of this outrage in order to make justice.
We request the Human Rights Council of the Presidency, Ministry of Interior, UNP, Ombudsman, and the Major´s Office of Cajamarca to give all the guarantees for the integrity of all the members of COSAJUCA and their families, in order to be able to continue carrying out their work as human rights and territory defenders.
We call for solidarity from all the local, regional, national and international organizations, so they can share and denounce this act that not only threatens COSAJUCA, but the all the socio-environmental process in defence of territory in the Tolima region.
We request United Nations and diplomatic bodies in the country to give support and counseling to COSAJUCA, understanding that the murdering of human rights and environmental defenders has grown dramatically, to the point of positioning Colombia in the second place worldwide, with 37 murders in Latin America.
For more information contact: