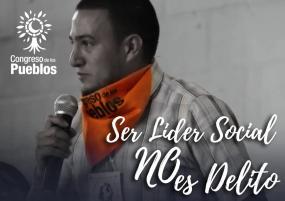 The National Human Rights Commission of the People's Congress, denounces to the citizens of Colombia, the authorities of control and protection of human rights, the social organizations and the national and international community, the delicate situation of persecution against our social and political organization, aggravated by the recent events that we will explain below:
At approximately 2:15pm today, June 6, 2018, our comrade and colleague Julian Andres Gil Reyes was detained in Bogotá DC, he currently works as the technical secretary and member of the international commission of the People's Congress.

Days ago Julian detected strange civilian subjects following him, taking pictures and monitoring the activities of the office of the People's Congress where he works and carries out his labor and political activities.
When he was about to leave the office, in the entryway, he was approached by five civilian subjects and two uniformed officers presumably from the National Police, who put him in a private car, a grayish blue Renault with license plate ZJN – 059 from Zipaquirá, going towards the Police Headquarters of Cundinamarca, located in Bogotá on the Avenue of the Americas with 53 Street.

We demand to the authorities, especially the Office of the Attorney General to guarantee the constitutional and legal processes to the citizen Julian Andres Gil Reyes, and immediately stop the persecution against social leaders In Colombia.

We denounce these irregular detentions as a strategy of criminalization by the Colombian State to dismantle the social organizations and impede the constitutional right to protest and to the development of democratic principles.
 
BEING A SOCIAL LEADER IS NOT A CRIME
 
The People's Congress (Congreso de los Pueblos)
June 6, 2018
 
PUBLIC DENOUNCEMENT