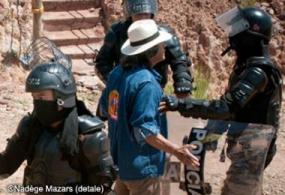 So far this year, 13 leaders of the Unión Sindical Obrera (USO) have received death threats in various regions of the country. Two of them have been attacked with firearms. "Complicit silence reigns on the part of the national authorities," says the union, which raises the possibility of "a preconceived plan being deployed from a single command center." The USO is considering possibilities for mobilization.

Oscar García, the USO leader in Arauca, was targeted by gunfire on January 6, when three bullets hit the car in which he was traveling. On January 23 in Cartagena, the union's vice president Rodolfo Valentino Preda was also fired on by a motorcyclist when traveling in a taxi, although this time no bullets hit the car.

As shown by the tragic case of civil society leader Carlos Pedraza – assassinated with a bullet to the head last week – the numerous threats issued against civil society, union, and political leaders in 2014 have now gone beyond mere threats.

Fishing in troubled waters
Jairo Ramírez, advisor to the Human Rights and Peace Commission of the USO, told Colombia Informa, "It's been awhile since we've seen such an avalanche of attacks and threats." Union officials believe that certain elements are taking advantage of the general context of intimidation of the social movement to try and put unionized workers on the ropes. "It seems as if this all has to do with the prevailing environment in the oil sector, where business leaders in a number of regions are working closely with paramilitaries and the far right. They want to create a climate of terror and then fish in troubled waters, because massive layoffs are on the table right now. This is related to the whole ongoing economic and labor situation in the oil and gas sector," said Ramírez.

A review of recent events shows that there has been a nationwide rollout of threats and assaults focusing on the union at those locations where its campaigns have made the greatest headway:

* On January 6, Oscar García was traveling in a protected vehicle in the town of Tame, Arauca when it was hit by three bullets.
* On January 9, Carlos Emilio Rodríguez, a USO activist, received a threatening message in the city of Villavicencio (Meta).
* On January 11, Rafael Cabarcas, an advisor to USO Cartagena, along with other union and movement leaders, received a pamphlet declaring them military targets.
* On January 13, national USO leaders Ariel Corzo, Libardo Hernández, and Jhon Rodríguez, President of USO Centro, were mentioned in a threat that appeared in the city of Barrancabermeja declaring them military targets.
* On January 12, Marco Antonio Montes, leader of USO Magdalena Medio, reported that he had received a death threat from Carlos Jacinto Viver Martínez in Puerto Boyacá (Boyacá), and had also been physically injured by him.
* On January 21, Iván Alberto Cáceres, a member of Funtraenergetica, received threatening phone calls giving him "24 hours to get out of the country or else we will attack your family."
* On January 25, Alexander Castro, leader of USO Centro, received a text message on his personal cell phone containing death threats.
* On January 23, Rodolfo Valentino Prada, Vice-President of USO Cartagena, was traveling in a taxi when a passing motorcyclist fired three shots on it. Fortunately, the vehicle was not hit; it had previously been assailed by a threatening group of motorcyclists.
* On January 25, David Mauricio Gómez, USO treasurer, received a text message on his personal cell phone at 9:35 p.m., signed "Autodefensas Gaitanistas," containing a death threat against him and his family.
* On January 26, Luis Carlos López, president in charge of USO Centro, received a message on his cell phone containing threats against him and his family.
* On January 27, Iván Guerrero, leader of USO Centro, received a phone message conveying death threats.

"President Santos must take a stand"
The union decries the government's inaction. "Even as the demand for trade union freedoms has become something of a litany with us, we call on the government of President Santos to get off the fence and to take a bold stand in favor of the democracy so deeply desired by this land of martyrs," said the USO. The text of the urgent action addressed to the national authorities adds: "We call on [the President of the Republic] to purge the Armed Forces of their criminal practices and to dismantle the paramilitaries, which are a creation of the state with the goal of annihilating the popular movement."

The union's human rights and peace advisor Jairo Ramírez added, "The issue has been raised with the Ecopetrol security area, the Defensoría del Pueblo, and with companies in the petroleum sector. With the USO sections, we are assessing the advisability of planning some kind of mobilization this coming week."