MORE THAN 60 HOURS OF PROTEST AGAINST THE MURDER OF OUR UNION LEADER IS REPRESSED BY ECOPETROL.
As we have reported, since last Sunday, September 11, the leadership of the Unión Sindical Obrera - USO began a day of protest in rejection of the heinous murder of our comrade leader of the Barrancabermeja Branch, Sibaris Lamprea Vargas, 42 years old, who was murdered on the night of September 10 by hired assassins who hit him with 5 shots.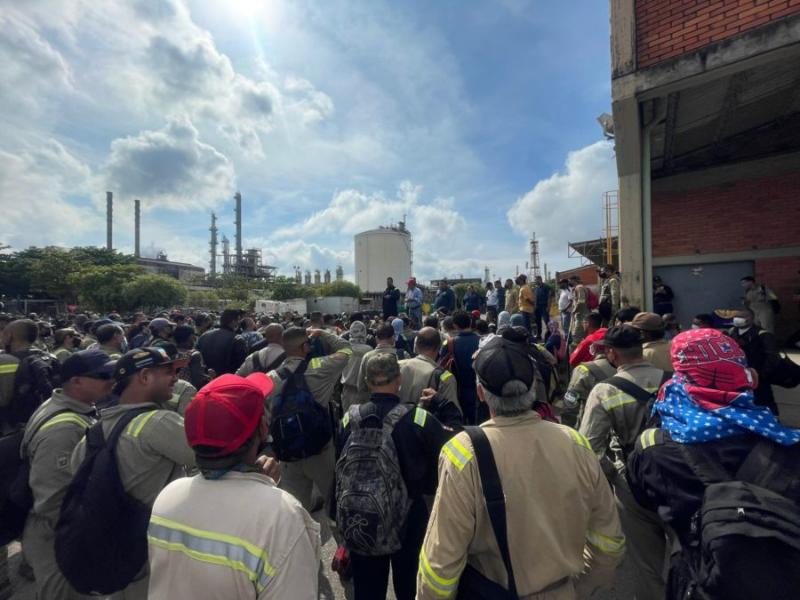 This situation, which has not happened to the union for 20 years, provoked the response of the organization, which using its historic weapon of struggle, peaceful mobilization, maintains a presence at the refinery facilities, as a measure to demand Ecopetrol to make a statement on respect for the lives of the leaders, the review of the security schemes of all the sub-directions, the commitment to peace and human rights, and the real existence of guarantees for the exercise of union activity.
The day was initially planned as a space of mourning, rejection and abnormality, which would last 48 hours, but we have been surprised by the management of Ecopetrol, with the notification of the sanction to several of the leaders who participated in it, as a measure to "teach the union a lesson". This shows that not only is there no interest in guaranteeing the development of the constitutional right to freedom of association, but even worse, there is an evident lack of interest in avoiding and rejecting actions that threaten the life and integrity of the leadership.
Recently, this trade union organization denounced through the document "Trade unionism in the spotlight, a failed state" delivered to the JEP, the existence of 125 dead and 7 disappeared in almost 100 years of existence. All cases with very high levels of judicial impunity, which has made the distrust with the speed, veracity and seriousness in the investigations very high, so the political action of protest is essential to keep alive the memory of rejection for the murder of our comrades.
We demand that Ecopetrol cease all criminalization and persecution actions it has decided to undertake against the union. It seems that we can no longer protest the murder of one of our leaders because the response is persecution. Ecopetrol demonstrates its position of annulling the total respect for union activity. We request the Colombian State to intervene immediately in the current USO - Ecopetrol conflict, it is not acceptable that the response to legitimate protest actions against a state-owned company, as a legitimate exercise of defense of rights, receives criminalization and persecution as a response.