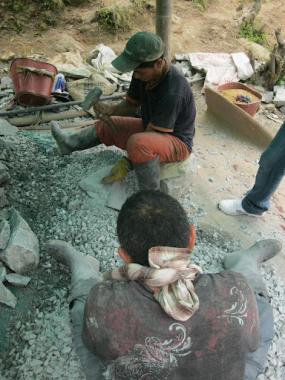 Police arrived at the Santa Isabel mine in Colón-Génova on February 21, 2012. The officers asked these local miners to attend a meeting to see if they could sort out their licensing request; However, when the roughly twenty-five miners arrived, they were read their rights and arrested. 

About a week later, a report ran on television stating that police had arrested a group of illegal miners in Colón-Génova who were making over 150 million pesos ($CAD 84,500) per month and using their earnings to fund the FARC and Los Rastrojos, a paramilitary group. 

The miners say they were shocked. "It's ridiculous," says Ferney Gamboa, one of those arrested. "A person here makes between 320,000 and 480,000 pesos ($CAD 180 -270) per month." Miners then invest earnings into their farms and families, he adds. "We have no contact with armed groups." 

This assertion has been backed by local officials. Pedro Vincente Obando, the Secretary of the Governor of Nariño, said at a conference on March 27, 2012 that the charges were "false and dangerous."

A Mining Country
Miners and the Comité de Integración del Macizo Colombiano, (Committee for the Integration of the Colombian Massif - CIMA), a rural social movement allied with the miners, believe that this is part of a federal government strategy to phase out informal mining and pave the way for foreign multinationals.
"We are seeing the criminalization of artisanal mining in this country," says Luz Mila Ruana, an organizer for CIMA in Nariño. She adds that a subsidiary of the South Africa-based mining company AngloGold Ashanti has begun preliminary exploration activities around the Santa Isabel mine.

Miners say that while being accused of funding illegal armed groups was a shock, the arrival of police wasn't much of a surprise. They have been waiting for nearly a year to submit their license application, but have been held up by administrative delays.
The Instituto Colombiano de Geología y Minería (Colombian Geology and Mining Institute - Ingeominas), the government body responsible for processing applications, stopped accepting requests for the legalization of traditional mines in 2011 after it reportedly received an overwhelming number of applicants. "Now they are saying we can submit in April," says Gamboa. He doesn't seem convinced.
Meanwhile, news of 'illegal' miner arrests is common in the Colombian media. Since the adoption of a new mining code in 2001 and new policies meant to crackdown on informal mining, the Colombian government has given unlicensed operations until 2012 to obtain the proper paper work or face arrest. 

The national government has made illegal mining a political and military priority, arguing that unlicensed operations cause environmental damage and contribute to the ongoing internal conflict by financing armed groups. In November 2011, officials said they had closed 329 unlicensed gold mines, arresting 1,228 people.

Miners and CIMA organizers are convinced that these policies have little to do with the environment or national security, and much to do with the federal government's plan to turn the country into a large-scale mining giant by 2019.
The CIMA and Canadian non-governmental organizations focusing on mining are quick to point out that the 2001 mining code was written in consultation with Canadian and Colombian mining companies -- a process that was funded in part by a grant from the Canadian International Development Agency (CIDA).
Since its adoption, foreign mining company royalty rates have dropped from 10% to .4%. Simultaneously, the number of mining permit requests and concessions have increased dramatically, with Canadian companies making up a large portion of mining exploration investment. 

The vision of Colombia as an untapped haven for large-scale mining stands in stark contrast to the reality, in which millions of small and artisanal miners are already working throughout the country. 

The nearly one-hundred men and women working at the Santa Isabel mine have been doing so with the permission of the local land owner for nearly forty years. Miners here work in small teams to extract tiny particles of gold from rocks dug out of shallow holes in the mountainside. To do this, they use water and large wooden sluices which hark back to the days of the California gold rush. 

They do not use toxic chemicals, but many small-scale operations -- and all large-scale ones -- in the country do use toxins.  It is no wonder then that Colombia has some of the highest levels of mercury contamination in the world. 

Ferney Gamboa argues that compared to his operation, a massive gold mine in the area would be far more detrimental to the environment. "A large-scale mine will have a much larger impact. These companies use cyanide and huge amounts of water." 

A Country in Conflict


As for the funding of armed groups, CIMA organizers believe that large-scale development projects pose the highest risk to empowering illegal actors. In 2007, Chiquita Brands pled guilty to violating US anti-terrorism laws after admittedly making payments to the United Self-Defense Forces of Colombia (AUC), a right-wing paramilitary group. A civil suit brought by families of the victims of paramilitaries is still ongoing. Drummond Ltd., an American coal mining company is currently facing a trial in the US for the same issue, while British Petroleum (BP) settled out of court with victims of paramilitaries that it allegedly funded in 2009. 

Paramilitaries are notorious in Colombia for murdering community leaders and appropriating land through terror tactics. After a deeply flawed demobilization process between 2003 and 2006, these groups are still active today, although under different names. Colombia still contains the second largest internally-displaced population in the world, behind Afghanistan, with 87% of displaced people originating from mining and energy-producing regions. 

The Colombian military is also present in extractive zones, with 30%, or 80,000 members, of the country's public forces dedicated to protecting oil and mining industry infrastructure. This has also created problems for small scale miners and farmers. In 2006, military troops killed Alejandro Uribe and Carlos Mario García, miners who were outspoken critics of foreign extractive companies active in the Bolivar Department, including AngloGold Ashanti. The army claimed that the two men were guerrilla fighters killed in combat, an argument rejected by local communities and dismantled by investigative journalists and rights groups like Amnesty International.
This confusion between civilians and guerrilla fighters is not out of the ordinary in Colombia. The Coordinación Colombia Europa Estados Unidos (Colombia Europe United States Coordination - CCEEU) reports that 535 civilians were victims of unlawful killings by Colombian public forces between January 2007 and July 2008. In 2008, the false positive scandal revealed that military troops had murdered scores of poor urban youth and farmers, and then dressed the bodies up to look like guerrilla fighters in order to inflate the military's combat success rate.

'False positives' pervade the Colombian prison system as well. The Comité de Solidaridad con los Presos Politicos (Political Prisoners Solidarity Committee - CSPP), a national advocacy group for political prisoners, estimates that 60% of the 7,500 prisoners in the country detained for political crimes associated with the armed conflict are actually social movement and union leaders who have been falsely accused.
Foreign multinationals deny contributing to or benefiting from the conflict in Colombia.  In response to small-scale miners fears of displacement in Colón-Génova, a spokesperson for AngloGold Ashanti Colombia states: "In the Department of Nariño, AngloGold Ashanti Colombia has built a good relationship based on support and collaboration with legal mining cooperatives, such as those established in Cumbitara and Los Andes Sotomayor, for example."

The Colombian government maintains that it promotes partnerships between small-scale miners and multinationals, and that along with passing new regulations it is providing support to small mining operations to improve their standards. 

Although some mining cooperatives have taken advantage of these arrangements, there are still many small-scale miners in Nariño who fail to see how new government policies can benefit them. "It's hard to tell which is better, having the license or not," says one owner of a licensed mine in the municipality of Sotomayor. "Once you have the license, the next step is keeping it." 

He argues that even with help from the Colombian government to improve their lighting system, new regulations like requiring owners to pay into workers compensation will be close to impossible to meet. 

In Colón-Génova, miners are resolved to peacefully defending their livelihoods despite the challenges ahead.  They are currently working together with movements like the CIMA to fight what they believe was an illegal arrest and to legalize their mine once and for all. 

Leah Gardner is a member of the PASC and an independent journalist focusing on human rights and corporate accountability.
Published on : Upside Down World