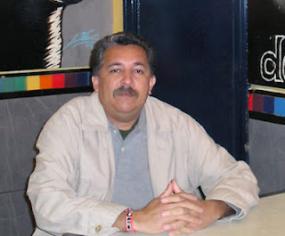 It is with deep pain that we inform you of the death of comrade LUCIANO ENRIQUE ROMERO MOLINA, a leader of SINALTRANAL who was assassinated in the city of Valledupar, Cesar. Luciano was seen alive at approximately 9pm on 10 September, then on the morning of 11 September his dead body was found tied up, tortured and with 40 knife wounds. He was living under the PROTECTIVE MEASURES scheme of the Inter-American Human Rights Commission of the Organisation of American States.
LUCIANO was 47 years old. He leaves 4 children and his partner Ledys Mendoza. He had worked for 20 years at NESTLÉ - Cicolac in Valledupar. He was sacked from there 22 October 2002, for a supposed cease of [work] activities that was declared illegal by the Ministry of Social Protection. There is a demand for comrade Luciano Romero?s reinstatement in process through the
First Labour Court of the Valledupar Circuit. The demand is against NESTLE DE COLOMBIA S.A., CICOLAC LTDA. and DAIRY PARTENS AMERICAS MANOFACTURING COLOMBIA LTDA. "DPA COLOMBIA LIMITADA".
LUCIANO was an outstanding leader of SINALTRAINAL and currently was our representative on the Foundation Committee of Solidarity with Political Prisoners [Fundación Comité de Solidaridad con los Presos Políticos - [FCSPP] from where he carried out activities of solidarity and humanitarian assistance for the detainees. on different occasions. From the end of 2004 he stayed several months in Gijón, Spain in a protection and solidarity programme; and he had returned to Colombia at the beginning of this year.
We repudiate this horrendous murder that adds LUCIANO ENRIQUE ROMERO MOLINA to the interminable list of assassinated union leaders in Colombia, [carried out] within the strategy of State Terrorism and through the persecution unleashed by the corporations to exterminate the trade union movement.
We condemn once again the government of Álvaro Uribe Vélez and his deceitful "peace process" with the paramilitary groups, which as we see continue massacring the unarmed population, with their crimes protected by total impunity thanks to the "Justice and Peace Law".
Fuente :
European Center for Constitutional and Human Rights (ECCHR)