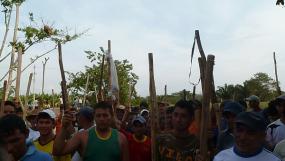 Since Monday January 21st, approximately 1 500 people belonging to different social organizations of Arauca, maintain an on-going permanent pipeline blockade against oil extractive transnational corporations in different sectors of the region. Their objective is to reactivate the pacific mobilization of their demands to transnational oil companies and to the Colombian state.
To date, the spokespersons of Arauca's social organizations demand the presence of the governor of the region while maintaining an open dialogue with the national government through Carlos Bernal Medina, advisor to the Minister of the Interior.
The people of Arauca and the social organizations that have joined the blockade seek the restitution of an environmental, social and humanitarian debt maintained by the state and transnational corporations with the inhabitants of the region.   
Although the first pacific manifestation occurred during April 10 through to May 8 2012, the communities sustain that this debt can be traced back to thirty years ago when extractive activity began in the region. During the aforementioned dates, the social pressure instigated by local organizations obliged the state and transnational corporations to sign a series of agreements that included the promise of a presidential decree that would recognize the role of social organizations and establish a guide for future dialogue. However, nine months have passed and none of the compromises have been met. The enormous environmental, social and humanitarian debt caused by extractive activities in the region of Arauca persists.
The social organizations leading this initiative have stated that they will not lift the blockade until concrete actions in favor of the inhabitants of Arauca are established and the presidential decree is passed. They have also stated that if no agreement is reached they will call on a civil strike throughout the region.
The pipeline blockade affects the entry and exit of machinery and personnel from OXY, Pacific Rubiales and Ecopetrol.
The actions set forth by the organizations of Arauca have received numerous demonstrations of solidarity at the national and international level. Diverse organizations belonging to the 'political movement of the masses' and the social movements of the center-orient region of Colombia will mobilize their people in solidarity of Arauca following the announcements of the national government expected this weekend.
The sites of the blockade are: the totality of the municipality of Arauca, the access to the Caño Limón industrial complex, the sub-station of Banadia and Villamaga in Saravena, El Tigre and Tamacay in Tame (where the construction of the Bicentenario pipeline is taking place) and Caricare under the legal domain of the municipality of Arauquita.