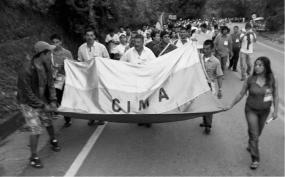 Thousands march in the Southern Colombian town of Pasto to demand land rights and an end to militarization and large-scale mining .
On October 12, 2012, a few days before historic negotiations between the FARC and Colombian government started, thousands marched in the Colombian city of Pasto, Nariño to show their dissatisfaction with the current administration and their desire "to construct peace with social justice."
After two days of public meetings and demonstrations in rural areas, campesinos (peasant farmers), indigenous people, afro-colombians, women and students converged on the small provincial capital to make their voices heard.
Riot police blocked protestors upon their arrival at the Plaza de Nariño, the central square in Pasto.
Police eventually allowed the crowd to enter, but then attacked the peaceful group, releasing tear gas and arresting some.
The demonstration was organized by the Nariño branch of the People's Congress, a popular assembly that democratically adopts and carries out political mandates outside of official government channels. The Congress' aim is to promote a 'dignified life' for Colombians, in part by proposing alternatives to the national development plan handed down by the Colombian government.
Large-scale mining -- a major component of the government's national development plan -- was one of the key grievances voiced in the October 12 protest. The Committee for the Integration of the Colombian Massif - CIMA estimates that the Colombian government has issued 992 exploration licenses in Nariño, covering 6,913 square km, or 20% of the department (province).
This has sparked public outrage, as peasant farmers and small-scale miners fear the further militarization of resource-rich regions where attacks on community leaders are on the rise. In one recent incident, CIMA leader and outspoken critic of large-scale mining, Rober Daza Guevara, was arbitrarily arrested at a road block.
Social organizations in Nariño have opened a dialogue with the provincial government around mining issues and hope to make their voices heard at the national level. Their ability to popularly mobilize -- as evidenced by the large turn out on October 12th -- suggests that they are a force to be reckoned with.
The CIMA and PASC are both members of the REDHER (Red de Hermandad y Solidaridad con Colombia)