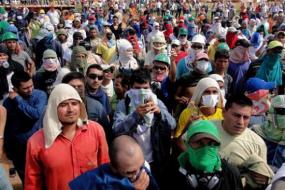 A protest by workers in the petroleum company Cepcolsa Petróleo and canadian Pacific Rubiales was violently repressed yesterday. The protest occurred in Campo Rubiales, in the department of Meta, Colombia. It is an important area of petroleum production. The workers were demanding better working conditions and salaries.
More than a thousand workers started to demand these changes 29 days ago. Currently the workers are being kept in permanent assembly.
These workers have added to the seven thousand workers protesting at the petroleum companies of Montagens JM and the canadian Pacific Rubiales. These companies do not apply Columbian labour laws.
The Minister of Social Protection in Colombian has recognised the violations of the labour rights on the part of the company Cepcolsa Petróleo.
Amongst the violations are failing to pay and working days of 18 hours, as well as delaying the payment of salaries.
In response to the demands of the workers, the petrol company dismissed more than a thousand workers.
Meanwhile, the Colombian government ordered the intervention of the army to put an end to the protests.The political repression was done with the use of tear gas and rubber bullets.
Moisés Barón, secretary of Asuntos Organizativos de la Unión Sindical Obrera (USO) informed that after the political crackdown there are seven injured works. Four of which have been seriously hurt.
The unions are demanding that the Colombian state protects the workers and leaders participating in the protests.
Story courtesy of Agencia Pulsar ,  translated by Mhairi Robert