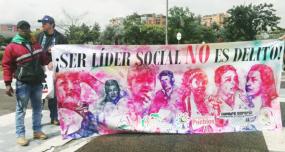 We denounce the government of Colombia's systematic persecution of the popular movement, human rights advocates, and social movement and ethnic leaders as a manifestation of the prevailing state terrorism in our country.
As of April 20, more than 30 persons belonging to social movement organizations, some of them former mayors and councillors in the departments of Nariño, Cauca, and Valle del Cauca were arrested as part of ongoing attempts to criminalize protest and social mobilization.
This new wave of detentions comes on the heels of the mass detentions in southern Bolivar department in 2017 and the ongoing criminal investigations against representatives of the opposition Polo Democrático Alternativo party, among others, as part of the same modus operandi: trials by media without evidence that are usually dismissed, and the accused released, after several months of fruitless investigation. The goal of these maneuvers is to stigmatize the social movement and sow fear among organizations and communities that have been standing up to a wave of attacks and suffering alarming levels of casualties: more than 282 social movement leaders assassinated in the last two years.
While the organizations pursue their day-to-day work of building a fair economy and a decent standard living for one and all, the government of Colombia continues to default on the agreements reached with the insurgencies and the social processes. The government is pursuing its response to the armed, social, and political conflict in areas such as the Chocó, Tumaco, and Catatumbo. It is trying to create a peace in which the winners exact tribute from the losers; it is giving clear signals of its unwillingness to keep its word and follow through on a negotiated end to the conflict.
We deplore the hasty decision of the President of Ecuador, Lenín Moreno, to cease hosting the peace talks between the government of Colombia and the ELN guerrilla movement. This decision puts an end to Ecuador's support for a political solution to the Colombian conflict; furthermore, given the looming possibility of a new U.S. military base at Manta, it clearly signals the geopolitical leanings of the Moreno administration. We thank the Ecuadorian people for their support for the peace talks between the ELN and the government, and we express our condolences and solidarity for the journalists who were murdered; this incident proves that war and the violence it brings are not just a problem for a single country, and that, to make peace a reality, we need to keep blazing paths to unity between our peoples.
The undersigned movements and organizations hereby express our total commitment to life, justice, and dignity – which, taken together, constitute the peace we continue to strive for. We stress the need to bring organized international pressure to bear on our demand for effective protection of leaders of the social, ethnic, political, and popular processes in Colombia. Let us now, without delay, crystallize the friendship between our peoples in the form of actions demonstrating to the forces of death that they will never gain the victory over hope and justice.
For peace in Colombia and across the continent,
Signed by over 120 organizations and counting, 27 April 2018
Allemagne

 

Interventionistische Linke

Kolumbienkampagne Berlin

 

Argentine

 

ATTAC

Barricada tv

Bloque de trabajadores migrantes – BTM

Casa de amistad argentino-cubana

Colectivo Passarinho

Congreso de los Pueblos- Capítulo Argentina

Corriente política 17 de agosto

Corriente Popular Juana Azurduy

Enrique Viale. Abogado ambientalista. Argentina. Miembro del tribunal ético por los

derechos de la naturaleza.

Frente Popular Darío Santillán

Frente Popular Darío Santillán-Corriente Nacional

Movimiento político y social Marcha patriótica - capítulo argentina

Movimiento popular la Dignidad

Movimiento popular patria grande

Movimiento popular seamos Libres

Movimiento por la Unidad Latinoamericana y el Cambio Social

Movimiento Proyecto popular

MPR quebracho

OLP simón bolívar

Opinión socialista Argentina

Pañuelos en rebeldía

Resumen latinoamericano

Asturies

Asociación Pueblo y Dignidad de Asturias

 

Australie

Chile SolidarityCampaign

Mapuche Australia Solidarity

Red de Solidaridad con los Pueblos Latinoamericanos / Latin American Solidarity

Network, LASNET

Colombia Demands Justice Campaign

 

Brésil

Movimiento de los Pequenos Agricultores de Brasil

Movimiento de Trabajadores Sin Techo

MST

Canada

ColombianWorkingGroup

Fronteras Comunes

Proyecto Accompañamiento y Solidaridad con Colombia

 

Catalunya

Brigada Rubén Darío

Cabildo Transfronterizo Barcelona

Candidatura de Unitat Popular (CUP)

Casa de la Solidaridat

CASAL

Colectivo Maloka

Colectivo Trawun

COOPXINO

CTA Barcelona

H.I.J.O.S. Barcelona

ITACA- Organización internacionalista de los PaïsosCatalans

Raíces Solidarias

SOLNICA

 

Chili

Comision de Politica Internacional del Frente Amplio

Izquierda Libertaria

Movimiento de Pobladores Ukamau

Movimiento Democrático Popular

Organización de Refugiados de Chile -OCORCH

Organización de Víctimas del Conflicto Colombiano

Partido Igualdad

 

Cuba

Centro Memorial Dr. Martin Luther King

Red de Educadores/as Populares/

Red Ecuménica Fe por Cuba

 

Équateur

COJI

Comité de Defensa de. Derechos Humanos de Pueblos de la Frontera

Comunidades Cristianas de Base Esmeraldas

Frente de Defensa y Lucha del Taxismo Informal

Guadalupanos

Secretaria ASECOBI

 

Espagne

Comité Internacionalista de Zaragoza

Comité por la paz de Colombia en Madrid.

 

France

LA PLUMA

Tribunal Internacional de Opnión – SUR DE BOLIVAR

Guatemala

Asociación coordinadora nacional de pobladores de áreas marginadas de Guatemala

Haití

Coordinación de ORGANIZACIÓN MOREPLA (Movimiento de los Campesinos deArtibonite)

Honduras

Colectivo Insurrectas Autonomas de Honduras

Frente Nacional de Resistencia Popular y Organización Política Los Necios

 

Angleterra

Colombia SolidarityCampaign

 

Italie

Centro Social Ocupado Autogestionado "Ex Snia"

Comité "Carlos Fonseca"

Comites de Base "COBAS"

Amérique latine et Caraîbe

Red de Victimas Colombianas por la Paz en Latinoamérica y el Caribe REVICPAZ -

 

Mésoamerique

Red Mesoamericana de Educacion Popular Alforja

Mexique

Millones contra Monsanto

Actuar Familiares contra la Tortura

Alzando Voces

Asociación de Consumidores Orgánicos

Asociación de Familiares de Detenidos Desaparecidos y Víctimas de Violaciones de

Asociación de padres y familiares de las víctimas de Sucumbíos APFVS.

Campaña Nacional Sin Maíz no hay país

Centro de Derechos Humanos Fray Francisco de Vitoria OP, A.C.

COA Nutrición

Colectivo de Reflexión en la Acción Rumbo Proletario

Comunidades Campesinas y Urbanas Solidarias A. C. (COMCUSA)

Defensores del MarAC de San Dionisio del Mar, Oaxaca

La casa de los pueblos

Liga Mexicana por la Defensa de los Derechos Humanos A.C. (Limeddh)

Observatorio de los derechos humanos de los Pueblos.

Organización Campesina Emiliano Zapata-CNPA Chiapas

Periodico el zenzo

Raquel Gutierrez. México. Profesora de la Benemerita Universidad autónoma de Puebla

Unión de Colonias Populares-Iztacalco (UCP-Iztacalco)

Unión Nacional de Técnicos y Profesionales Petroleros.

Liga Mexicana por la Defensa de los Derechos Humanos A.C. (Limeddh):

Fundación Diego Lucero A.C.

Asociación de Familiares de Detenidos Desaparecidos y Víctimas de Violaciones de Derechos

Humanos en México (AFADEM FEDEFAM)

Asociación Nacional de Abogados Democráticos (ANAD)

Observatorio Nacional de Prisiones México (ONP México)

la Red Universitaria de Monitores de Derechos Humanos (RUMODH)

Centro de Derechos Humanos Coordinadora 28 de Mayo A.C.

la Asociación de Derechos Humanos del Estado de México (ADHEM)

Comité de Familiares de Personas desaparecidas en México

Alzando Voces y Comité de Defensa de Derechos Humanos CHOLOLLAN

Actuar Familiares contra la Tortura Centro de Derechos Humanos "Antonio Esteban"

Asociación Canadiense por el Derecho y la Verdad (EN VERO)

Frente Mexiquense en Defensa para una Vivienda Digna A.C.

Frente Mexicano Pro Derechos Humanos, (FREMEXDHU), Zihuame.

Seguiremos caminando la Paz de Colombia y del continente 27 de abril 2018

Firmado por más de 120 organizaciones y siguen llegando

 

Paysbasques

Emigrados Sin Fronteras

 

Pérou

Acción socialista

La Junta

Las rondas campesinas

Movimiento comunitario alfa y Omega

Mundo Verde

Norte progresista

Partido comunista patria roja

Todas Somos Micaela

Puerto Rico

Jornada Se Acabaron Las Promesas Puerto Rico

Movimiento de Agroecologia Popular de Puerto Rico

 

RépubliqueDominicaine

 

Casa del Caribe-Inc. Barahona

SICSAL- Servicio Internacional Cristiano de Solidaridad con los Pueblos de América

Latina Mons. Romero-R.D.

 

Suisse

Aluna

Uruguay

Organización de víctimas del conflicto armado colombiano en Uruguay

 

Venezuela

Movimiento socialista josecarlosmariátegui la chira
Red de Victimas Colombianas por la Paz en Latinoamérica y el Caribe REVICPAZ - LAC :
Colectivo por la paz en Colombia desde México, ColPaz.
Colectivo de exiliados y refugiados colombiano en el Ecuador
Colectivo Migrantes y Exiliados Colombianos por la Paz MECOPA - Argentina
Asociación de víctimas "Ecos de Colombia" - Costa Rica
Asociación de Victimas SOVIC – Panamá