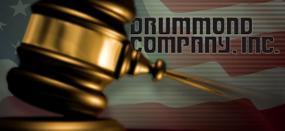 A former AUC paramilitary member will testify before a U.S. court that Alabama-based coal giant Drummond Ltd. ordered his group to kill union organizers at its mine in Colombia, the victims' defense said Monday.
The member, who uses the alias "Samirio," will testify Tuesday during a hearing in a northern Colombian courtroom, according to attorney Terry Collingsworth.
Samirio is one of three paramilitary members whom an Alabama judge allowed to testify against the coal giant.
Collingsworth, representing more than 600 victims in the civilian case against Drummond, said in a press release that Samirio, whose real name is Alcides Manuel Mattos Tabares, will testify that the U.S. coal company made payments of millions of dollars to the United Self Defense Forces of Colombia (AUC). He also said he would  testify about how Drummond operatives directed the AUC to kill union leaders.
Lawyers for the company have said in the past that Drummond relied on the Colombian military and its own security forces to defend against guerilla attacks on company trains, which took coal 120 miles to the port in Santa Marta. Officials for the Alabama-based Drummond Ltd. have denied all claims that the company had connections to the AUC or any other paramilitary group.
Tabares—who was the chief of security for Oscar José Ospino Pacheco, commander of the Juan Andres Alvarez Front—said in a sworn statement that he attended a meeting in November 2002 between Pachero and Alfredo Araujo Castro, manager of community relations for Drummond. At this meeting Castro told Pacheo that "the AUC had to kill all of the Drummond union leaders because the union was causing problems for Drummond."
Tabares also attended a meeting where Drummond operatives made arrangements to give $1.5 million to "Jorge 40," one of the paramilitary AUC's main leaders.
From 2002 until he was captured in 2005, Tabares patrolled Drummond's rail lines, and there he said he conducted killings, which at times were directed by Drummond employees, according to his statement.
Tabares said he "coordinated with Drummond's private security, who would contact the AUC to report unauthorized persons in the rail line area, and the AUC would respond and take action based on these reports."
The company's Colombia arm Drummond Inc. began operating at the Colombian site in 1995. The company's two open-pit coal mines are near La Loma in the Cesar Department, and they produce some 25 million tons of coal a year, according to Bloomberg News.
Collingsworth was said to be "delighted that after so many years of struggle, we are about to hear testimony of what really happened, and how Drummond was a major force behind the AUC's war effort in Cesar."
Drummond was ordered to pay a $25,000 fine to the U.S. Justice Department, but never compensated victims' families. None of the company's directors have been convicted for the coal giant's dealings with the death squads.
Sources : Colombia Reports