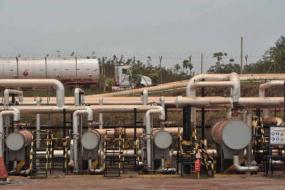 Canadian NGOs met with residents of Puerto Gaitán, Meta (Colombia) to gather evidence that Campo Rubiales is polluting and endangering the population

Campo Rubiales / Gabriel Aponte

Nine members of Canadian civil society organizations went to Puerto Gaitán in the Colombian department of Meta last weekend to assess the social and environmental conditions prevailing at Campo Rubiales, the country's largest oilfield, which belongs to the Canadian company Pacific Rubiales.

Today they released the results of their observations, which show that working conditions are poor, drinking water is contaminated, and the dust raised by the hundreds of trucks moving through the area every day is affecting people's health.

These results, along with others from the mining and hydroelectric sectors, will be made public on August 16-18 in what has been called an "ethical and political tribunal on natural resource pillaging" that will "judge corporate practices and government policies" affecting the people living in the vicinity of extractive projects.

On these initial results, Amir Khadir, a physician and member of the Québec National Assembly, stated, "we do not know if everything we have heard is caused by Pacific Rubiales, but we do know that such a large number of complaints about the company strongly suggest noncompliance, and that more in-depth studies about the evidence we have gathered must be conducted."

Khadir, who took charge of observing environmental conditions at Campo Rubiales, stated that there is "very clear testimony that some 500 to 1000 heavy trucks are rolling through the area, raising a great deal of dust that is having a direct impact on people's health." He added that the local water supply is threatened "because the company plans to use the land next to the Caño Rubiales river to install wastewater retention facilities."

Pacific Rubiales responded in a statement that "Puerto Gaitán is 165 kilometers from Campo Rubiales and there are very few human settlements between them; therefore the impact of dust is very limited." The company also said, "we are operating under the most stringent international environmental, labor, and social protocols, and we are audited on an ongoing basis by world-recognized independent institutions.

Terry Lynn Brant, who represents the National Aboriginal People's Circle on the Human Rights Committee of the Public Service Alliance of Canada, also participated in the delegation to Puerto Gaitán. She asked for forgiveness on behalf of the indigenous people of her country for "the harm that this Canadian company is causing to Colombian communities." She said that the Sikuani, the majority indigenous people in the region, "have watched their rivers become polluted and are experiencing social problems such as unemployment, robbery, and diseases whose consequences will not be known for many years."

The company responded that its relationship with the Sikuani is one of ongoing dialogue in a spirit of respect for their culture. "On numerous occasions, their leaders have acknowledged the company's efforts to coordinate with Sikuani authorities," adds the statement.

While Pacific Rubiales claims that the response to the Canadian social leaders' complaints should come from industry associations (ANDI or ACP) or the government, the team of experts and trade unionists is prepared to explore Canadian and international legal avenues in order to obtain justice.

Dave Coles, President of the Communication, Energy, and Paperworkers Union in Canada, argues that the free trade agreement signed by Colombia and Canada has two side agreements (on the environment and labour) that are being violated and "this could easily lead to some trade relationships between the two countries being canceled, as well as to the cancellation of the company's marketing authorization, which expires in 2016."

According to Eva Mascolo, a Canadian delegate who represents the Committee for Human Rights in Latin America (CDHAL), the people of Canada do not know what energy companies listed on the Toronto Stock Exchange, such as Rubiales, are doing overseas. "There are no mechanisms for bringing multinationals to justice when they violate human rights outside of Canada, and there is no accountability. These companies live in a legal haven, and that is why 70% of the world's mining companies are in Canada."
* Free translation
 
picture: Gabriel Aponte
(USO) UNIÓN SINDICAL OBRERA DE LA INDUSTRIA DEL PETRÓLEO
http://www.elespectador.com/noticias/actualidad/vivir/ong-preparan-juic…