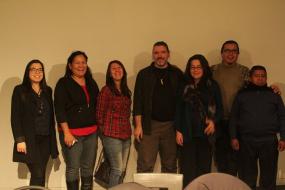 ''The struggle is petroleum black. (…) The face is battle red.''
Natasha Kanapé Fontaine, activist and Innu poet

From November 7th to 19th, the PASC had the honnor to receive Felipe Uncacia, delegate of the Traditional Native Association of Arauca (ASCATIDAR, Colombia), as well delegate of the People's Congress (Congreso de los Pueblos). Felipe Uncacia visited different communities with whom he shared the experience of his people against the oil exploitation in his region and the construction of a pipeline.

WENDAKE, CHICOUTIMI, WEMONTACI, MONTREAL, KANEHSATÀKE, KAHNAWAKE
This tour was the occasion to exchange on the Indigenous realities, visions and ways of organization, but most of all on the means used to defend the territory. Because, if the Peoples are affected in different ways by the exploitation of their territory (forestry development, mining exploitation, pipelines), it goes back to step up for the survival of future generations, Indigenous and non-native.
''We are People that fight, People of combat, People of resistance!'', Felipe Uncacia.
Resistance of the U'wa People against oil companies
In 2013, the members of the U'wa native nation mobilized to block the access to their territory from the oil companies. Rapidly, the whole region stood up too. Answering the call initiated by the U'wa and Sikuani traditional authorities, the farmer's organizations, the student movement and the workers of various sectors demonstrated day and night, engaging in a social strike throughout Arauca, a province East of Colombia. All the entrances of the province, as well as many internal roads were blocked by demonstrators. The oil companies, having no more access to the oil camps, had to suspend all their activities. Members of the U'wa People also paralyzed the construction of one of the most important pipeline of the country. It should be noted that the environmental, social and humanitarian crisis provoked by the oil exploitation goes hand in hand with the militarization of the territory and the repression against Indigenous Peoples defending their land.

The People's Congress
This tour also had as an objective to make visible the fights led by the People's Congress, a social and political movement born from the 2008 Indigenous Mobilizations (''La Minga''). The movement grew to a national level, joined by different social struggles: students, workers, women's movements, peasants and farmers, Afro-Colombian communities, community groups, etc. As a convergence space, the People's Congress is a central actor of the regional blockades, farmer's strikes and popular mobilizations having led to the General Social Strikes of 2012, 2013 and 2014. These uprisings have forced the government to open negotiation tables where the People's Congress demands, amongst other statements, a full moratorium on all extractive activities and the immediate redistribution of land to Indigenous, Afro-Colombian and peasant's communities. Felipe Uncacia is one of the People's Congress delegate at these negotiation tables, tables through which he defend the respect of the autonomy and the recognition of Indigenous Peoples of Colombia.
On November 17th, the event Protect the Territory was organized as main event of the tour. Because the imposition of the extractive model goes beyond the hemispheres, the event received, along with Felipe Uncacia, various Indigenous guests defending their territory across so-called Canada. Getting together, solidarizing ourselves with each other, sharing, inspiring and resisting are ways to maintain the movements alive and it is done everyday through many voices!