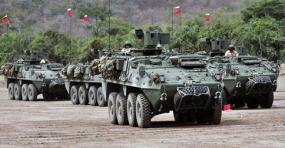 While undergoing peace negotiations with the FARC, Colombia has recently acquired 32 combat and troop transportation vehicles (LAV III) through the Canadian commercial corporation (CCC), a crown corporation acting as a contracting and international supply agency.  The transaction was officially announced in Canada on January 10th by the CCC, but the Colombian army's website reported that the first LAV III had arrived in Colombia in September 2014, and that the vehicles' destination is a military base located in the department of La Guajira.  Constructed by General Dynamics Land Systems, based in London, Ontario, the contract of 84 million $US is the equivalent of La Guajira's annual budget for social investment, reconciliation, health and education.
In December 2012, only a few months after ratifying the Free Trade agreement between Canada and Colombia, John Baird, the Minister for Foreign Affairs, amended a law regarding the exportation of automatic weapons.  This law was revised in order to allow the exportation of military equipment to Colombia, making Colombia the first Latin-American country allowed to receive these types of weapons from Canada.
The LAV III will be stationed strategically, near one of the most important surface coal mines in the world, the Cerrejon mine, equally owned by Anglo American, BHP Billiton Ltd and Glencore.  According to Colombia's Minister of Defense, the tanks will be used to "fight against delinquency and defend the country's natural resources and infrastructure".
Over the last few decades, the Wayuu indigenous people living in La Guajira have experienced serious difficulties in connection with the mine: forced displacements, environmental degradation and destruction of their traditional way of life.  In June 2014, 64 Wayuu families living on ancestral land were forced to dislocate by Colombian anti-riot forces. For decades, the Wayuu have been using different measures to denunciate the serious consequences of the mines and were, on many occasions, faced to law enforcement.
Despite La Guajira's significant amount of natural resources, it is one of Colombia's poorest departments.  45% of its population is indigenous and 64% suffer from extreme poverty.  Furthermore, there are 37,000 cases of child malnutrition as well as tens of thousands of families suffering from the lack of access to drinkable water due to recent droughts caused largely by coal exploitation.  The goal of this "Canadian contribution" is to pacify and suppress the indigenous populations.