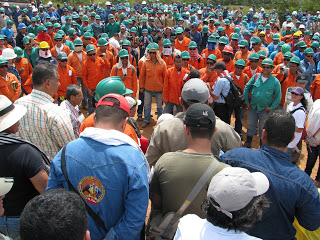 On November 2, 2013, in the city of Villavicencio, Brother DARIO CARDENAS, Vice President of USO (META), was arrested under a warrant from the First Criminal Court of Villavicencio, in which he is accused of "obstruction of public roadways, arson, and aggravated damage to property."
This action is part of a strategy of persecution against the union, backed by the petroleum companies operating in the region, which has seen slanderous attacks on the local union leaders, consisting of allegations of crimes committed during protests to defend workers' rights.
On October 9, we issued a public statement denouncing a pamphlet slandering the USO. Its claim was that the Union is attempting to profit monetarily by contracting out. This is something that has never benefitted our union, and, in fact it was USO who complained to the government against the corruption generated by companies who contract out labour to agencies supplying the oil companies, in order to manipulate local leaders who collaborate with the companies.
It is obvious that there is a strategy being carried out jointly by the government, government security agencies, and the oil companies, in particular, PACIFIC RUBIALES ENERGY, aimed at preventing, at all costs, our union organizing in the new oil fields in the Department of Meta, the country's highest oil producing region. This is a new attack by the government against trade unionism that proves a basic principle—any leader who is not murdered by paramilitary or military forces needs to be charged with something and put in jail. We find ourselves in a perverse alliance among bosses, lying judicial officials, and security forces, united in a campaign to obstruct union freedoms and criminalize the activities of workers' organizations.
This is the reason behind the Citizen Safety Act (Ley de Seguridad Ciudadana—Ley1423/ 2011), which criminalizes social mobilization, as well as the reason for a new bill (091/ 2013) advanced by Minister of Defence Juan Carlos Pinzón, over the authority of the Minister of Justice, using the cover of "Criminality and Terrorism," which establishes new penalty aimed at containing social protest. This evil behaviour was combined with a campaign of leafleting, slander, and threats against leaders and their families.
USO protests the arrest of Brother DARIO CARDENAS PACHON, Vice-President of USO, and calls on national and international bodies to act to end the persecution against our union, and ensure justice is done, as well as recognizing internationally-recognized trade union rights .
Bogota, Colombia, November 2, 2013

UNION OF PETROLEUM WORKERS – USO – National Executive Board and Human
Rights and Peace Commission