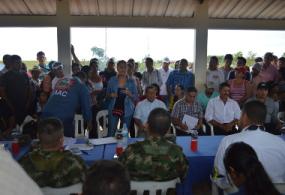 After a number of days of an indefinite strike in the entrance to the oil fields of oil giant Pacific Rubiales Energy, there were negotiations between the community, the multinational, and the local, regional, and national authorities in order to find possible solutions to the social crisis in the region.

Present in the negotiations on May 23rd in the municipality of Puerto Gaitán were communities from the villages of Rubiales, Santa Helena, and Puerto Triunfo, with delegations from the Minister of Work, Interior Minister, the National Agency of Hydrocarbons, the Government of Meta, two commanders from the National Army, a commander from the No. 15 Mining and Energy Battalion, the Commander of the Police Department of Meta, the District Attorney's office of Meta, the regional Public Defender of Meta, and two delegates from Pacific Rubiales Energy. These negotiations had the goal of looking for mechanisms for the fulfillment of agreements between PRE and its workers and the community; these agreements were reached in February, April, and May of this year.

The indefinite strike, which had the participation of more than 600 residents of the zone, was started May 19th as a consequence of the three months of Pacific Rubiales failing to follow through on their agreements that they had signed with the community in these months. Additionally, in the last four months the company has fired various members of the community, due to these grievances the community began the indefinite strike demanding that the company immediately fulfill their promises and reintegrate the fired workers.

The demands written by the community refers to the agreements that Pacific Rubiales has failed to fulfill; the community demands greater work opportunities for the people in the zone surrounding the operations of PRE, investments to better the conditions of the access roads in the municipality (none of them are paved), greater social investment to guarantee coverage and quality in public services, guarantees for a good basic education, more classrooms to eliminate overcrowding and a school cafeteria which they currently do not have. Additionally they have asked for the no stigmatization of social protest, which according to the media "are presented as obstacles to free enterprise."

Wednesday May 20 after socializing the demands of the community and speaking with the National Police to reach at an agreement, 60 riot police arrived at 7 o'clock in the morning at the place of protest. After indiscriminately firing tear gas at the people in the area, they followed the people to their houses where agents of the Criminal Investigation Unit (SIJIN) threated to prosecute the protestors for their involvement.

The repression motivated the community to ask for immediate intervention from human rights organizations and from the local and national governments with the intention of creating a negotiating roundtable to confront this conflict.