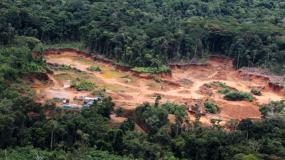 In October, we learned of an important change made to Colombia's legal framework: mayors have been granted veto power to oppose unwanted oil and mining projects.

Colombia's Constitutional Court granted mayors the right to overturn national decisions, following a string of scandals surrounding the decision to grant exploitation rights in protected natural reserves. According to this new judgement, local authorities now have the authority to regulate the use of land and to ensure the protection of the environment, even when exercising this prerogative leads to stopping mining activities.

This veto applies to all mining titles and may be used by mayors of municipalities where mining activities are supposed to take place or are already taking place: without the mayor's permission, no mining or oil projects can go ahead. (This new rule may even put an end to projects that are already underway). Until now, the national government had the last say over granting mining concessions.

The Constitutional Court has also ordered the government to create a working group, with a maximum delay of 2 years, to carry out scientific and sociological research to identify the impacts of mining projects on Colombian ecosystems. The Court has therefore raised doubts about the current government policies pertaining to the mining industry, and its many impacts on the territory.
How will this decision be applied, given a context in which Colombian mining laws support the multiplication of harmful oil and mining projects?  We have often made the point that the Colombian Mining Code was tailored-made in consideration of the needs of Canadian mining companies. Indeed, the Canadian Energy Research Institute (CERI) was mandated to elaborate the 2001 version of this mining code. This "international aid project" was made possible thanks to funds allocated by the Canadian International Development Agency (CIDA) and to contributions from private sponsors (a multitude of multinational corporations).

In sum, the situation is thus: the creation of a climate which is favourable to investments from multinational companies, namely through tax reductions; a large quantity of mining projects which are led and controlled by Canadian companies; forced displacements and the imposition of development projects created to respond to the needs of the 'North' ; repeated violations of the right to life, the right to self-determination, the right to land, and so on.

This situation, which has been ongoing for many years, rightly begs the following question: does the recent Constitutional Court decision constitute a real form of protection of potentially affected local ecosystems and communities? This remains to be answered, and will depend on the implementation of this decision and of the related rules and regulations which may or may not be aligned to this decision. 

To be continued.