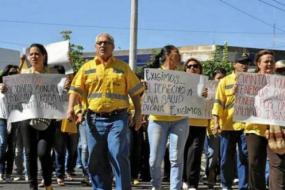 Workers at Carbones del Cerrejón Limited in La Guajira have ended the strike that began on 9 February after their union signed a new collective agreement that provides improved working conditions.
"The workers who attended the meetings to hear the outcome of negotiations recognized that the agreement made significant progress on protecting their rights to health, housing, education and decent work as well as dealing with problems of workers in financial difficulties," said Igor Díaz, president of the workers' union, Sintracarbón.
Representatives of Sintracarbón and Carbones de Cerrejón Limited are drafting the new collective agreement and workers will return to work as normal at what is the world's biggest opencast coal mine.
The agreement will remain in force until 2015. Workers will receive a $7,000 bonus accompanied by a 5.1 per cent pay increase in the first year and further inflation-linked pay rises.
Sintracarbón said the agreement represented significant progress, for example, the company recognized the union's right to participate in decisions about the selection, contracting, evaluation and management of the health company that will provide services through the various health systems. The union said that the health company selected would be asked to invest in infrastructure to improve health care in the department of La Guajira. Workers requiring specialized medical care will have access to new rehabilitation centres in the north and south of La Guajira, which will improve quality of life because workers will not have to travel outside the area to receive such care. Another benefit is that the transport system will be changed and will use buses able to cope with 2 to 3 hour journeys.
Sintracarbón said that there had also been an important step towards providing decent work because the company agreed to give 600 temporary workers permanent contracts. "This step offers those workers job security, improved social security protection and guarantees them the right to become a member of a trade union, all requirements of decent work, according to the ILO definition," said the union.
Additional benefits include loans for housing  and higher education for workers and their families.
The 2013-2015 collective agreement is the result of the union's firm defence of direct dialogue as the legitimate mechanism for resolving disputes with the employer.  Direct negotiations lasted 20 days. This was followed by a 20 day extension after which workers voted to go on strike. The strike lasted 29 days, during which time the union remained open to dialogue and negotiating a fair agreement for workers.
IndustriALL Global Union and the United Steel Workers (USW) supported the strike, sending funds to cover the workers' needs. They also wrote to the government and the company and visited the Colombian ambassador in Geneva. They congratulate the union for improving the quality of life of all the workers concerned and their families.
Originally published www.industriall-union.org