A week-long strike held in many agricultural regions of Colombia this past August has strengthened the country's network of farm movements, particularly after the strike was harshly repressed and at least 12 activists were murdered by police and military forces. The results of the strike will be discussed at the fourth national meeting of the Coordinador Nacional Agrario (CNA), from the 18th to the 22nd of November 2013 in San Lorenzo, a village in the southern state of Nariño. Some 600 people from more than 120 organizations representing every region of the country will be participating to evaluate the success of the strike and make decisions on further protests. The CNA has existed for 16 years and is today the largest network of farm organizations. Also participating in the CNA process are indigenous groups and student organizations.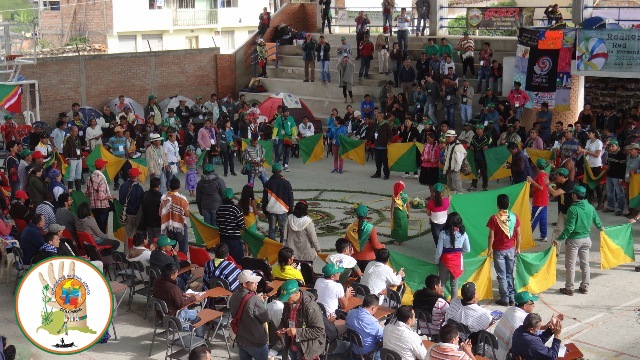 Topics to be discussed include solutions to the ongoing land conflicts, since land in many rural areas has been illegally and forcibly expropriated and has yet to be restored to its rightful owners. The meeting will also discuss proposals to prevent coal and gold mining in different parts of the country as well as possible protests against multinational seed companies such as Monsanto.

The mayor of San Lorenzo, speaking at the event, called for protest against planned natural resource extraction projects in the region. Nariño is a region known for its committed resistance to projects planned by the company Gran Colombia Gold and to corporate natural resource exploration in general. Nariño was also a focal point for last year's farmers' strike.

The CNA is an explicitly anti-capitalist organization that opposes US and EU influence over Colombia through the intermediary of the Free Trade Agrrements FTA. Suggestions for further mobilization to be discussed in the next few days include roadblocks to prevent multinationals from gaining access to mineral resources and farmland. In addition, further strikes, demonstrations, and creative actions will be organized.