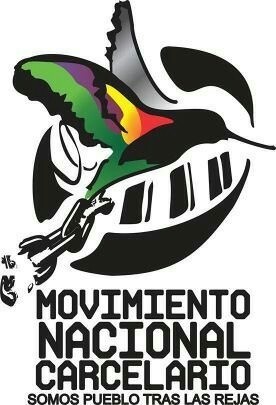 Today we find ourselves facing an emergency that transcends borders and bars . To the public concern  we denounce this situation that affects 120 000 people in this country who are deprived of their freedom.  The sanitary conditions that they face daily are dismal, they cannot count on the presence of medical personnel nor medications. Even less so, on protocols to prevent and/or act against the propagation of COVID-19. The only measure taken by the state has been to suspend all visitation. Conscience of their situation, various people deprived of their freedom have exercised pressure on INPEC (The National Penitentiary and Jail Institute) demanding the use of masks, gloves, hand sanitizer and other basic preventative tools. However, INPEC has responded with repression and disinformation, pretending that the people deprived of their freedom just disagree with the suspension of their visitation rights while what the National Prison Movement is actually demanding the following:
1.    That a state of emergency in the prison system must be declared.
2.    Permit alternative sentencing, in lieu of incarceration, for women who are pregnant or breast feeding, for those who have received a sentence of less than 2 years and the elderly, to alleviate  the congestion in the prison system and to avoid health risks for these vulnerable populations.
3.    Demand that INPEC's guard personnel be barracked on site. Since the guards have no control over the spaces through which they travel outside the prison walls, this would create the necessary prevention and hygiene conditions to allow their entrance into penal facilities. 
4.    Guarantee  the accompaniment of Stare health bodies headed by the Health Minister 
5.    To guarantee basic provisions in "cantines" of non-perishable  food items to supplement the insufficient  food allowances that are offered in prisons.

We call on the national government and INPEC to take concrete actions that care of the necessities of these people. We call for solidarity from the Colombian people to unite, to search for the common good which will permit us to face , to endure, and to over come this global emergency we all are facing.
Finally we call all Colombian families, friends and prison facilities to join CARCEROLAZO NACIONAL, in order to demand a declaration of a state of national emergency in the prison system on Saturday March 21st by 9am.
To send this to all prison facilities, please cut and paste the following emails to your institution's email::
procurador@procuraduria.gov.co, quejas@hchr.org.co, quejas@procuraduria.gov.co, comunicacionesvp@presidencia.gov.co, servicioalciudadano@mininterior.gov.co, defensoria@defensoria.org.co, direccion.epcpicota@inpec.gov.co, dhumanos.epcmedellin@inpec.gov.co, epcpopayan@inpec.gov.co, epcvalledupar@inpec.gov.co, reclamos@inpec.gov.co,atencionalciudadano@inpec.gov.co, Sanidad.epcpicota@inpec.gov.co, direccion.epamsdorada@inpec.gov.co, epcriohacha@inpec.gov.co, salud.epcriohacha@inpec.gov.co,  direccion.epcpicota@inpec.gov.co, subdireccion.epcpicota@inpec.gov.co, direccion.rcentral@inpec.gov.co,  dhumanos.epcriohacha@inpec.gov.co,  epcacacias@inpec.gov.co, sanidad2.epcacacias@inpec.gov.co, direccion.rnoroeste@inpec.gov.co,
 direccion.epcpicota@inpec.gov.co, subdireccion.epcpicota@inpec.gov.co, direccion.rcentral@inpec.gov.co,  aciudadano.epmscsonson@inpec.gov.co, sanidad.epmscsonson@inpec.gov.co, epcpopayan@inpec.gov.co, dhumanos.epcmedellin@inpec.gov.co, epclaceja@inpec.gov.co, epccartagena@inpec.gov.co, epcneiva@inpec.gov.co, direccion.epcgirardot@inpec.gov.co, aciudadano.epcmedellin@inpec.gov.co, direccion.epcmedellin@inpec.gov.co, epcpalmira@inpec.gov.co, direccion.epcpalmira@inpec.gov.co, ecbarranquilla@inpec.gov.co, epcyopal@inpec.gov.co, sanidad.epcyopal@inpec.gov.co, direccion.ecpedregal@inpec.gov.co, salud.epcandes@inpec.gov.co, epcandes@inpec.gov.co, epcespinal@inpec.gov.co, direccion.epcpicalena@inpec.gov.co, clacacias@inpec.gov.co, epccombita@inpec.gov.co, aciudadano.epcgranada@inpec.gov.co, epcgranada@inpec.gov.co, rviejocaldas@inpec.gov.co, epccombita@inpec.gov.co, epcgranada@inpec.gov.co, aciudadano.epcgranada@inpec.gov.co, rviejocaldas@inpec.gov.co, epamsvalledupar@inpec.gov.co, epcbuenaventura@inpec.gov.co, direccion.epamsdorada@inpec.gov.co, aciudadanos.epamsdorada@inpec.gov.co, rnorte@inpec.gov.co, epmscarmenia@inpec.gov.co, epcmanizales@inpec.gov.co, epccaqueza@inpec.gov.co, direccion.ecchoconta@inpec.gov.co, ecchoconta@inpec.gov.co, direccion.epcriosucio@inpec.gov.co, direccion.epccali@inpec.gov.co, rmpereira@inpec.gov.co, epcsantamarta@inpec.gov.co, epcaguachica@inpec.gov.co, direccion.epcpasto@inpec.gov.co, direccion.epccartago@inpec.gov.co, epcelbanco@inpec.gov.co, epccartago@inpec.gov.co, direccion.epccartago@inpec.gov.co, epcelbanco@inpec.gov.co, eczipaquira@inpec.gov.co, juridica.epczipaquira@inpec.gov.co, epcsrviterbo@inpec.gov.co, Subdireccion.epcsrviterbo@inpec.gov, epcsocorro@inpec.gov.co, juridica.epcsocorro@inpec.gov.co, ecarmeroguayabal@inpec.gov.co, epctamesis@inpec.gov.co, direccion.epcflorencia@inpec.gov.co, direccion.epcflorencia@inpec.gov.co, comando.epcflorencia@inpec.gov.co, epcduitama@inpec.gov.co, juridica.epcduitama@inpec.gov.co, epctuquerres@inpec.gov.co, juridica.epctuquerres@inpec.gov.co, epcitagui@inpec.gov.co, juridica.epcitagui@inpec.gov.co, investigaciones.epcipiales@inpec.gov.co, epcarauca@inpec.gov.co, epcpereira@inpec.gov.co, aciudadano.epcpereira@inpec.gov.co, epcpitalito@inpec.gov.co, administrativa.epcpitalito@inpec.gov.co, epcsantodomingo@inpec.gov.co, epcgarzon@inpec.gov.co, juridica.epcgarzon@inpec.gov.co, epcsogamoso@inpec.gov.co, epcvalledupar@inpec.gov.co, aciudadano.epcvalledupar@inpec.gov.co, epcstabarbara@inpec.gov.co, epcstabarbara@inpec.gov.co, epclaplata@inpec.gov.co, Juridica.epclaplata@inpec.gov.co, epcpereira@inpec.gov.co, aciudadano.epcpereira@inpec.gov.co, epcpitalito@inpec.gov.co, administrativa.epcpitalito@inpec.gov.co, epcsantodomingo@inpec.gov.co, epcgarzon@inpec.gov.co, juridica.epcgarzon@inpec.gov.co, epcsogamoso@inpec.gov.co, epcvalledupar@inpec.gov.co, aciudadano.epcvalledupar@inpec.gov.co, epcstabarbara@inpec.gov.co, almacen.epcstabarbara@inpec.gov.co, Juridica.epclaplata@inpec.gov.co, epcpereira@inpec.gov.co, aciudadano.epcpereira@inpec.gov.co, epcpitalito@inpec.gov.co, administrativa.epcpitalito@inpec.gov.co, epcsantodomingo@inpec.gov.co, epcgarzon@inpec.gov.co, juridica.epcgarzon@inpec.gov.co, comando.epcsogamoso@inpec.gov.co, epcvalledupar@inpec.gov.co, aciudadano.epcvalledupar@inpec.gov.co, epcstabarbara@inpec.gov.co, almacen.epcstabarbara@inpec.gov.co, epclaplata@inpec.gov.co, Juridica.epclaplata@inpec.gov.co, epcbolivar@inpec.gov.co, direccion.epcbolivar@inpec.gov.co, epmalaga@inpec.gov.co, direccion.epcmalaga@inpec.gov.co, epcunion@inpec.gov.co, comando.epcunion@inpec.gov.co, , epcmocoa@inpec.gov.co, tratamiento.epcmocoa@inpec.gov.co, epcsrdecabal@inpec.gov.co,  direccion.epcsrdecabal@inpec.gov.co, pcyarumal@inpec.gov.co, epcpamplona@inpec.gov.co, epccaucasia@inpec.gov.co, direccion.epccaucasia@inpec.gov.co, direccion.epcantioquia@inpec.gov.co, epcocana@inpec.gov.co, direccion.epcocana@inpec.gov.co, planeacion.epcpensilvania@inpec.gov.co, Planeacion.epcapartado@inpec.gov.co,  eptitiribi@inpec.gov.co, aciudadano.epctitiribi@inpec.gov.co, juridica.epcelbordo@inpec.gov.co, ecroldanillo@inpec.gov.co, Planeacion.epcroldanillo@inpec.gov.co, direccion.epcsanandres@inpec.gov.co, epchonda@inpec.gov.co, epcpuertoboyaca@inpec.gov.co, epclibano@inpec.gov.co, dhumanos.epcpuertotejada@inpec.gov.co, planeacion.epcchaparral@inpec.gov.co, epcpuertotriunfo@inpec.gov.co, epcjerico@inpec.gov.co, direccion.epcpurificacion@inpec.gov.co, juridica.epctulua@inpec.gov.co, Direccion.epcsanvicente@inpec.gov.co, epcaguadas@inpec.gov.co, eplamesa@inpec.gov.co, direccion.epclamesa@inpec.gov.co, epcmagangue@inpec.gov.co, sanidad.epcmoniquira@inpec.gov.co, epcgacheta@inpec.gov.co, sanidad.epcpazdeariporo@inpec.gov.co,