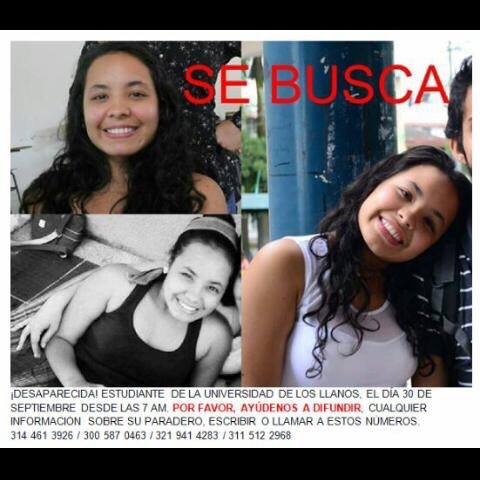 Villavicencio, 1 October 2015
JAZMIN ANDREA MORERA GONZÁLEZ is a student leader at the University of Los Llanos, known for her commitment to the defense of student rights and the cause of public education. She is a member of the National Youth and Student Association of Colombia (ANJECO), the "Student Identity" process, and the Congress of the People's. She has fought for participation and democracy at her university, helping organize students to defend their rights. With ANJECO, she supports neighborhood processes designed to publicize the students' concerns and defend access to higher education. We therefore denounce the disappearance of our friend to the Colombian and international community:
1. Yesterday, Wednesday, September 30, at 7:00 a.m., Jazmín Andrea Morera González, 21, a fourth-year student of economics at the University of Los Llanos who represents her committee and program, left her house in the neighborhood of Villa Lorena de Villavicencio. She was wearing jeans and a black sweater and was headed for the university to take her midterm exams, but she never arrived.
2. Her friends and relatives began looking for her that evening, September 30. They visited the city's hospitals and clinics, her workplace, the bus station, the forensic medicine office, and the homes of her friends.
3. At time of writing, she has been missing for 32 hours. She has not been in contact with her family or friends, and her whereabouts are unknown.
4. Today, October 1, the emergency search mechanism was put into effect by the Public Prosecutor and the National Police (SIJIN).
WE DEMAND:
- That the competent authorities urgently take all steps necessary for the effective protection of our friend, daughter, and sister.
- That the competent authorities investigate the facts denounced here and punish the perpetrators of her disappearance.
WE CALL ON:
- All Colombian and international human rights organizations to sign on to the call for protection of the life of Jazmín Andrea Morera González.
- The Red Cross, in its capacity as a humanitarian organization, to help us find our friend. We are young people and students fighting for life and dignity, and together we will build a new nation!
Author:
PASOS HUMAN RIGHTS FOUNDATION
Source:
Colombian organizations