This weekend over 4,000 delegates, activists, and leaders from different departments, sectors and organizations in Colombia will converge in Bogotá to discuss issues facing the agrarian and popular sectors.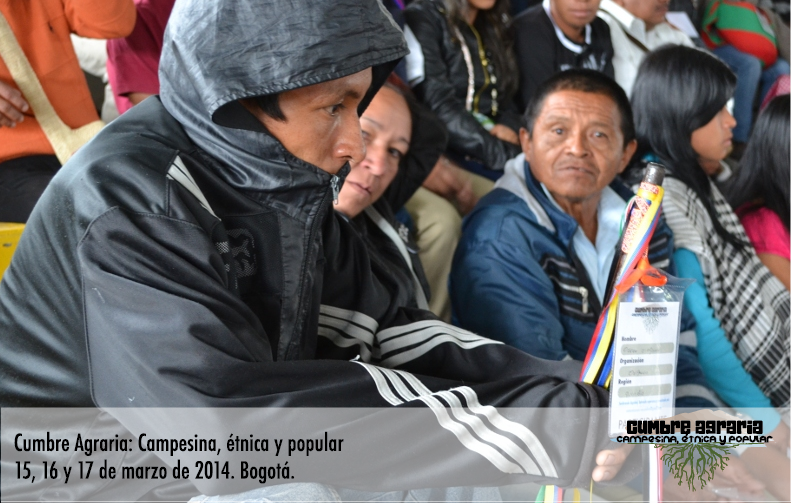 The summit is part of an ongoing process in Colombias social organizations to provide an alternative space for people to articulate the problems they are facing and to collectively create solutions.  Other iterations of this process include the coffee-producers strike in February 2013 and the General Agrarian strike in August 2013. In these strikes campesinos took their demands for dignity, an end to displacements, exploitation of labor and land, land expropriation by multinational corporations and the government, and an end to international free trade agreements. The demands of these strikes will be addressed directly at the summit in the working group discussions. Other themes to be discussed include the mining and energy sector, access to education and healthcare, and justice and social peace.

These are issues that the Colombian government has failed to seriously respond to despite strong efforts by the population to bring them to the attention of the government.  In some instances they signed agreements and have yet to implement.  However some pleas have been more or less ignored, with the government consistently acting in favor of capital and multi-national corporations.

Due to the inaction of government and the desire to create alternative routes to a new, just Colombia, people will take to the streets in a General strike in late April. The resolutions from the discussions at the summit will be used to create a strong united agenda bring to the government. !Viva la cumbre!

Participating organizations include, but not limited to, Congreso de los Pueblos, CNA (National Agrarian Coordinator), Marcha Patriotica, PCN (Process of Afro Communities), MUA (Mesa National of Agrarian Unity), UNIC (National Indigenous Organization of Colombia), Minga Indigenous, COMOSOC (Social and Popular, Coalition of Social Movements and Organizations), MCP (Movement for the Popular Constituent, Agro-Livestock Dignity, and  National Coordination of Social and Political Movements.