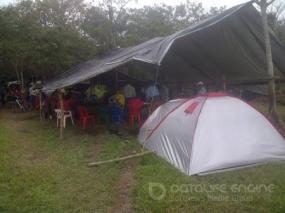 The community of "Tesoro del Bubuy" of the municipality of Aguazul drafted a letter to the company Petrola Perenco Colombia Limited (PERENCO) and sent a copy to diverse entities such as the National Agency for environmental licences, Corporinoquia, the Departmental Governmental Secretary, the town council of Aguazul, and the Inter American Commission on Human Rights. Through this correspondence, the community reaffirmed the denouncement that concerned multiple environmental, social and legal violations committed by PERENCO as well as its negligence to adopt accommodating and harmonious attitudes.
Moreover, this letter denounces the indifferent attitude adopted by the national, departmental and municipal authorities at each of their visits in the region.
It has been one month and 7 days since the community of Aguazul manifested their disagreement.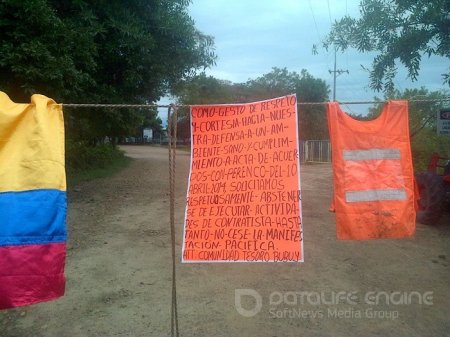 This letter is a copy of their communication:
   PERENCO COLOMBIA LIMITED
    Gentlemen,
     A cordial salute,

    Through this letter, we which to express that:
    1. We want to reiterate that we are manifesting in a peaceful way because of your negligence to respect your obligations in accordance with the environmental, social and legal norms. This manifestation began on the 3th of August this year and will end when company will take the necessary steps to stop the negligence.
    2. We wish that the multinational PERENCO Colombia Limited shows its good will, its cordiality, its rigour and its respect to the community. We solicit your cooperation by stopping all your activities from the 3th of August until our demands our discussed with the community present.
    3. We express our deep pain concerning the fact that you are still pursuing and initiating works without consulting the community and not respecting the commitments you voluntarily agreed to from the resolution 1301 of 2008 of the ANLA  requirements.  For example, judgment 542 from 2014 and the environmental impact study, particularly, the proposal for environmental management which Perenco presented and proposed to compliment the environmental license. For this failure to comply with your commitments, specifically relating to the environment, we protest and reject the decision to continue extractive activities without respecting the protocols and demands set in place by the environmental management (fiche 1 and 2). We also condemn the institutions that with their competence have allowed this company to continue its work without fulfilling its legal agreements in this situation.
4. Moreover, we have seen an arrogant, defiant, and contemptuous attitude displayed by the multinational and its functionaries towards our just and documented petitions .  We insist to inform you about our refusal to accept this behavior against our community. We ask you to stop any offences or disrespect of the obligations outlined in the protocols that should be respected when the community is manifesting peacefully against your failure to respect the accords stipulated by official documents that you willfully adopted for your environmental licence.
5. We would like to clarify that, as the municipal ombudsman, the functionaries and the contractors of PERENCO (those who daily visit the station and the production well) could have verified during their visit in San José, we have acted – in spite of the environmental, social and legal violations, in accordance with the article 37 of the Colombian political constitution. Notwithstanding, no conciliatory or amicable behaviors have been observed from the multinational PERENCO of from any authorities. On the contrary, we observed an augmentation of their hostile attitude.
6. The behaviors that have been previously described are acts of provocation that the community wish to denounce in order to demonstrate its peaceful attitude. We think that initiating a dialogue is the only way to establish an agreement that will end the impunity and the social evil that is presently occurring on our territory without any consideration of the human rights violations.
7. This communication will be send to the civil, administration and environmental authorities in order to receive their feedbacks.
Cordially,
The community of Tesoro del Bubuy
September 10th, 2014