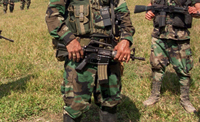 On Sunday, August 28, at about 7:30 am, the lifeless bodies of two youth from Jiguamiando, killed by paramilitary forces, were found in front of the humanitarian zone of Claro Andalucia in the Curvarado region.  According to witnesses, the youth were abducted by force after they refused to allow 10 paramilitary soldiers a ride in their vehicle. Judging from the baton marks on their bodies, the youth were then beaten to death.  Although posted at a permanent base at the nearby bridge of Caño Claro,  the Colombian military did nothing at the discovery of the bodies.  In the past 3 weeks, paramilitary forces have committed two forced disappearances, two assassinations and 31 death threats against peasants trying to reclaim their lands.

Since last April, paramilitary operations have been openly conducted in Curvarado and Jiguamiando, communities of African descent.  We estimate that there are 500 paramilitary personnel protecting lands that have been expropriated for new coca crops, palm, banana and yuca plantations and cattle grazing.  Despite condemnations of the continuing tolerance and complicity of Brigade 17 and the Police of Uraba in these criminal acts,  not a single action has been taken to stop them.

At a hearing of the Inter-American Court of Human Rights (IACHR), the director of international relations of the IACHR at the time claimed that we should not be concerned about paramilitary operations since there had not been any assassinations or disappearances, thus contradicting the numerous denunciations made by victims and the organizations which support them.  This public servant now holds a high position in the Office of the Attorney General of Colombia.

The Colombian government will not guarantee the restitution of lands that, since 1996, have been stolen by paramilitary forces on behalf of the owners of banana, palm and cattle plantations.  In the meantime, paramilitary forces are continuing their encroachments on the lands of the black communities of Bas Atrato with impunity.

    Bogotá, Colombia. August 28, 2011

    Comisión Intereclesial de Justicia y Paz

SEND A LETTER TO:
comunicacionesvp@presidencia.gov.co, agenda@agenda.gov.co, german.vargas@mij.gov.co, cap@procuraduria.gov.co , quejas@procuraduria.gov.co , mdn@cable.net.co, despachoministro@minagricultura.gov.co, contacto@fiscalia.gov.co, denuncie@fiscalia.gov.co, maria.Holguin@cancilleria.gov.co
Montreal, 29 de agosto del 2011
Asunto : Asesinados 2 personas por paramilitares en Jiguamiandó
Sr. Juan Manuel Santos, Presidente de la República de Colombia
Sr. Angelino Garzón , Vicepresidente de la República de Colombia
Sr. Germán Vargas Lleras, Ministerio del Interior
Sr. Alejandro Ordoñez, Procurador General de la Nación
Sr. Volmar Pérez, Defensor Nacional del Pueblo
Sr. Juan Camilo restrepo, Ministro de Agricultura
Sra. Viviane Morales, Fiscal General de la Nación
Sra. María Angela Holguín, Ministra de relaciones exteriores
Estimados señores, 

Por la presente queremos reiterar solicitudes frente a la gravedad de la situación de las comunidades afrodescendientes del Bajo Atrato en las Zonas Humanitarias del Jiguamiendo y Curvarado. Mientras las comunidades siguen en espera de la entrega de sus tierras usurpadas desde el 1996, enfrentan nuevas amenazas a su vida que se concluyeron el 28 de agosto pasado por la muerte de dos jovenes de la región.

Hechos:
El domingo 28 de agosto, luego de las 7:30 p.m. Frente a la Zona Humanitaria de Caño Claro Andalucía en Curbaradó fueron dejados dos cuerpos sin vida de jóvenes asesinados por paramilitares en Jiguamiandó.De acuerdo con testigos, diez paramilitares tomaron a los dos jóvenes en Bella Flor Remacho luego que estos se negaron a transportarlos en su embarcación. Horas después los jóvenes aparecieron con signos golpes con palos de madera en su cabeza, los que produjeron su muerte.Los militares que se encuentran en un retén permanente en el puente de Caño Claro y muy cerca de la Zona Humanitaria de Caño Claro Andalucía no hicieron nada ante el hallazgo de los dos cuerpos sin vida. En estas últimas tres semanas se han producido dos desapariciones forzadas y estos dos asesinatos por parte de paramilitares, igualmente más de 31 reclamantes de tierras se encuentran amenazados de muerte.Se estima una operación de 500 hombres de los paramilitares A pesar que esta presencia se ha denunciado por la evidente tolerancia y acciones conjuntas en determinadas situaciones de la brigada 17 y la policía de Urabá, nada se ha hecho para enfrentar esta operación criminal.
Ante los hechos ocurridos reiteramos las solicitudes expresadas por lascomunidades y organizaciones de derechos humanos mientras la situacion de entrega de tierra a los consejos comunitarios legitimos no se arregla sus líderes y miembros ven sus vidas puestas en riesgo y siguen amenazados.
Reiteramos la preoccupación siguiente ¿Qué medidas de divulgación pública para que las iniciativas de la población como Zonas Humanitarias y Zonas de Biodiversidad sean legitimadas públicamente, como ejercicio no violento, de la víctimas del despojo y de crímenes de lesa humanidad y crímenes contra la humanidad ?
¿ Qué medidas se estan tomando para el desarme efectivo de las tropas paramilitares que actuan de manera más y más abiertas en todo el país?
Con el fin de impedir otros graves crímenes en contra de la población civil, solicitamos de parte de las autoridades competentes que se tomen medidas efectivas de prevención y de reacción inmediata ante la actuación paramilitar en la región.
Con profunda preocupación,
NOM- ORGANISATION

--