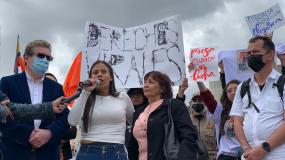 Today Erika Prieto presented herself to the Prosecutor office in Bogota to face charges hold against her in one of the judicial frame up against activist of the People's Congress caused by political interference in the judicial system. Judicial frame ups are an ongoing practice of setting up activist under false evidence and false testimony having them jailed awaiting trial for up to two years stopping them from going on with their legitimate demands.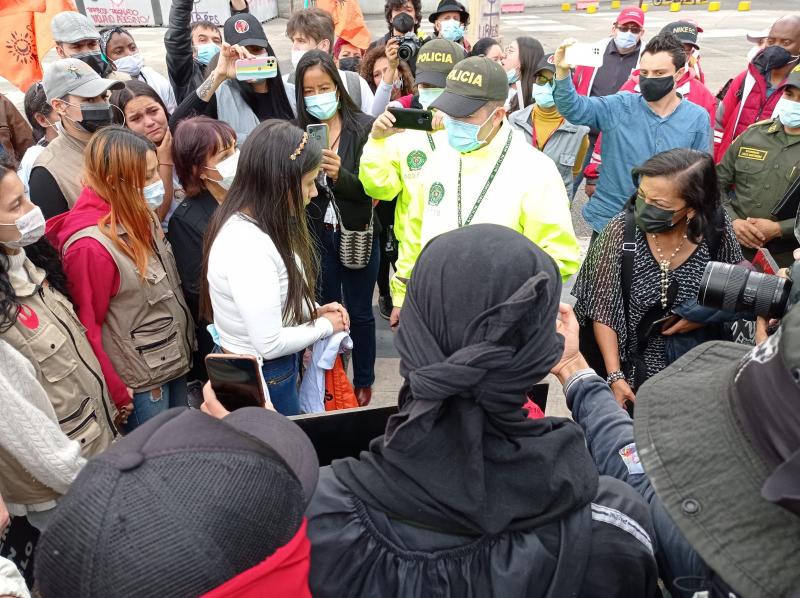 Women Life defenders are not criminals:
Enough of judicial frame ups !
The Peoples' Congress sends a message of affection and support to Erika Isabel Prieto Jaime in the face of the persecution unleashed by the Attorney General's Office, which is now threatening her good name, integrity and presumption of innocence.
Our social and political movement for several years has been denouncing the direct and systematic attacks, through the Genocidal Social Practice of criminalization and prosecution, and the deprivation of liberty of hundreds of its members. From 2002 to the present, the State has imprisoned more than 150 social leaders and maintains more than 400 criminal proceedings in force, we have denounced these judicial frame ups and the improper use of criminal law to criminalize us; these aggressions that seek our extermination far from disappearing have intensified, because after each process more innocent people are involved, there is no independence between the government and the judicial entities, the courts and the instances that should protect and promote human rights, on the contrary they behave as appendages of the national executive and its policies of criminalization.
In this context of deepening of a policy of extermination of organizations and individuals opposed to its policies of death, we are witnessing not only practices of physical elimination of some people, but also of limitation, blocking and reduction of the political exercise of the right to protest, of human rights and the guarantee of life and integrity of social and popular lead
erships, who defend their territories throughout the country.
With the case of Erika, as with the arrests that occurred during the national strike, we insist in denouncing the systematic persecution against people, organizations and processes, which seeks to delegitimize their political action, just and worthy of transforming the country, with proposals for social equity and democracy. Today we struggle for life and freedom as the most important elements, vital to live in peace and democracy.
Erika is a recognized social leader, human rights defender, feminist, animalist, she has cultivated deep humanist values since she was very young, the country knows her as a defender of the noblest causes reflected in the political banners she carries, the international press has described her very well as a uncomfortable activist for the State.
Despite her young age she has been a recognized student leader, worked as a parliamentary assistant in the service of social movements, during the Covid-19 crisis she was very active in mobilizing humanitarian assistance in impoverished neighborhoods of the capital that were evicted in an irregular manner, assisted migrant families, sex workers and drug addicts, accompanied social mobilizations in vindication of the right to demonstrate, collected food and lovingly sheltered hundreds of abandoned animals and found them families, this social leader of the Peoples' Congress can be described with hundreds of adjectives that inspire in the communities of cities and rural areas the necessary strength to think of a society without misery.
The people and communities that know her work know that she is a woman of deep feelings of solidarity with the popular struggles; for this reason she is can't stand a country that occupies one of the highest rates of Human Rights violations.
We demand an end to the persecution against Erika Prieto and the more than 400 social leaders, an end to the imprisonment of those of us who mobilize for the right to live in dignity, an end to all harassment actions that seek to dismantle and silence any action of resistance.
We demand that their rights be respected and that procedural guarantees be provided (presumption of innocence, right to a good name, right to due process), that judicial officials and the media put an end to the anticipated media convictions that put the integrity and lives of our compañeras, communities and organizations at risk.

We invite all those who defend life, dignity and hope to reject this absurd judicial frame up of which our dear comrade of the Peoples' Congress is a victim.