Please note that the PASC is no longer doing accompaniment with Justicia y Paz.

The Comision Intereclesial de Justicia y Paz is an organisation dedicated to the defense of Human Rights. Based in International Human Rights law, the organization advocates for the rights of peoples to defend victims of Human Rights violations and of state te

rrorism in their search for truth, justice and reparation. Justicia y Paz accompanies 14 civil resistance movements countrywide whose actors come from afro-colombian, indigenous and farming communities, as well as some grassroots social organisations.

Justicia y Paz was born in April 2002 when a group splintered off from the Comision Intercongregacional de Justicia y Paz, which had been active from 1998 until its dissolution in 2002.  While this former organisation was officially linked to the Colombian Catholic church, the current Comision Intereclesial de Justicia y Paz operates independently of any church structure. Nevertheless, its membership remains comprised of people from  different religious backgrounds as well as of non-believers from various sectors of the Colombian Left and from a variety of professional backgrounds.

Justicia y Paz adopts a political stance that actively denounces the Colombian state as intellectually and materially reponsibility for the enactment of the paramilitary strategy. The use of irregular paramilitary armed forces served to repress and displace poor farmers from the countryside, thereby enabling the national oligarchy to gain control of vast amounts of the country's land and natural resources. In this way, the Comision denounces the model of society that the Colombian state -- along with its complicit foreign interests -- seeks to impose on its population by brutal force.  Justicia y Paz holds that the internal armed conflict in Colombia stems from a social conflict that arises from a structurally unjust and antidemocratic society in which, every day, millions of Colombians fall further into poverty and are dispossessed of their land. For this, the organisation believes that a search for negotiated solutions to the social and political armed conflict affecting the country must involve the building of concrete alternatives to the socio-political and economic roots of the war. These alternatives are being developed by communities and grassroots social organisations through civil resistance and the affirmation of peoples' human rights amidst the armed conflict.
To this end, Justicia y Paz has developed a methodology of community support, called "Integral Accompaniment", which is divided into three complementary strategical axes:


1) the permanent "field work":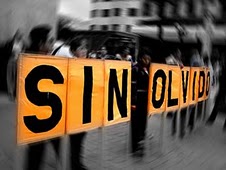 The physical presence maintained by these field teams offers an important mechanism of protection for communities in civil resistance, but their primary aim is to contribute to community empowerment through popular education and to strengthen communities' organizing capabilities.

2) political-legal strategies:
A series of legal actions based in national and international law taken by the legal team of Justicia y Paz to fight for justice in the face of Human Rights violations committed by the Colombian state against these communities, as well as to promote and defend their political, economical, social and cultural rights.

3) political-symbolic strategies:
Aim at increasing the visibility of civil resistance struggles undertaken by the communities, particularly through the establishment of Humanitarian Zones as a method of highlighting the civilian population which lives amidst the armed conflict, as well as the creation of an international support network. This serves to put pressure on the Colombian government to guarantee the protection of each community.