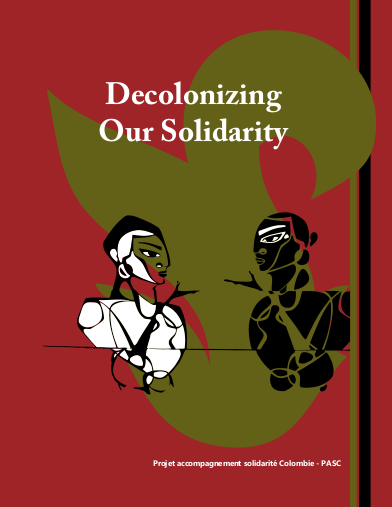 Workshops by and for People Involved in International Solidarity One of the goals of this project was to organize discussions between people involved in international solidarity work, with the hope of better understanding the power relations in which such interventions are embedded. Our aim was to critique practices of international solidarity from an anti-colonial, feminist perspective and to ground them in social struggles. Inspired by the challenges faced by members of PASC in their accompaniment work in Colombia and by the research of Gada Mahrouse of the Simone de Beauvoir Institute, Concordia University, on the topics of privilege, transnational activism, humanitarianism, and political tourism, this project is a collaborative effort intended to develop steps towards "decolonizing" solidarity.
Through the workshops and the publication of this manual, we hope to participate in building a "counter-discourse", one that offers alternative views on international solidarity. To this end, we share our own experiences, as well as our sources of inspiration, which are expressed in the practices and ideals of feminists of colour across the world. Within the overall goal of encouraging critical reflection, we take a three-step approach to the idea of decolonizing solidarity. First, we introduce the concept of "privilege" by articulating a feminist and decolonial analysis of power relations. Here, we suggest that "North/South" solidarity relations are spaces in which racialized privileges clearly exist, and, at the same time, can offer channels and opportunities for strategically using these privileges for social justice work. Second, we contextualize current practices of international solidarity through a brief account of the different historical influences on our actions. In this part, we explore the origins of our practices and the legacies of preceding interventions. In the third part, the concept of privilege, along with a decolonial feminist analysis of power relations, is applied to consider the position of Canadians engaged in international solidarity work.
Through this critical reflection, we hope to contribute to a dialogue on decolonization practices between activists from the global North and the activists from global South. Critical Views to Encourage Discussion This "Decolonizing Our Solidarity" manual is intended as tool for study and debate. We hope it will contribute to enriching the discussions and practices of international solidarity. We make no claim to objectivity, and we openly acknowledge our feminist and decolonial interests and goals.
The critique we offer of international solidarity practices emerges from a systemic analysis that focuses on dominant trends and brackets exceptions to the rule. While recognizing the positive elements of this work, we take this critical approach to stimulate a profound rethinking of international solidarity movements. We at PASC – as activists in a Colombia solidarity project – are certainly not exempt from these critiques. The text is thus interspersed with examples drawn from PASC members' experiences. Under the heading "Paths of Direct Solidarity," we reflect on our own setbacks, internal debates, tensions, successes, dilemmas, and processes. However, it must be noted that the interpretation of these incidents has not always been a matter of consensus within the group and that the accounts described in this manual are just some perspectives on the diverse experiences of members within our collective.
Introduction
The overall framework of analysis and the key concepts used in this project are introduced in this chapter.
Chapter 1. Challenges of Solidarity: Facing our privileges
The first chapter delves into the concepts that were used to develop a feminist, decolonial analysis of power relations and to understand the inherent challenges that arise in North/South solidarity contexts. We begin by presenting the concepts of oppression, social categories, and privilege. We then discuss ways to recognize our privileges and to apply this recognition to our practices.
Chapter 2. The Origins of International Humanitarian Interventions
In Chapter 2, we provide a history of what is now known as international solidarity by distinguishing between three influences:
1) Christian charity and the humanitarian movement;
2) internationalism as political solidarity;
and 3) development aid. We then examine the work of international cooperation organizations in more detail. Finally, we examine the notion of "global citizenship" as a contemporary expression of international solidarity. By excavating the different ideological influences on these various interventions, we invite people working in the area of international solidarity to consider the historical conditions that have shaped and underlie their actions.
Chapter 3. Canadians in International Solidarity
The final chapter tackles the solidarity relationship and attempts to define the specific privileges of Canadians involved in these interventions. Examining the reflections of activists and former interns and development workers, we look at the different tensions and contradictions which cut across international solidarity work. This is meant to open up additional spaces for debate so that these challenges might be confronted collectively rather than at the individual level, which can lead to disengagement.
Appendix
A case study is provided as an entry point for discussion of some of the points raised in the manual: NGOs at the Heart of the Turmoil: The Case of Haiti
More information (in French) : decolo.pasc.ca