Permanent Solidarity Campaign with Political Prisoners in Colombia
PASC accompanies the Committee of Solidarity with Political Prisoners, participates and broadcasts campaign information beyond the campaign walls about extradition and the closing of the prison of Valledupar.  PASC also associates with different solidarity campaigns for political, war or social prisoners in North America.  There are presently more than 7200 political prisoners in Colombia.  Out of 60 000 prisoners, only 22 000 were charged and the others are under investigation and can wait up to 36 months before being tried.

Political prisoners are imprisoned on the basis of their political opinions and/or their confrontational actions against the government policies or the supporting oligarchy.

Since the Colombian government denies the existence of an armed conflict, it refuses to recognize the status of « Political Prisoner » and does not hesitate to call « terrorists » the inmates arrested for their social and political activities.  This negation of an armed conflict and of the status of prisoner of war or political prisoner allows the government to bypass international accords which govern internal conflicts, like the Geneva Convention, or the international human rights.

Who Are They ?

According to the Committee of Solidarity with Political Prisoners (CSPP), 60% of the political inmates are not fighters but union leaders, human rights defenders, popular organization members, etc. whose accusations are supported by testimonials by informants working for the govenrment.  These false witnesses, often paid for, say that the prisoner is part of an insurectional organization or has participated in an act of terrorism with that organization.

Political prisoners end up in many prisons, mainly those with maximal security.  The Valledupar and Combita prisons, for example, where many of these prisoners are detained, were created by an accord with the United States Federal Bureau, which participated in the construction of the buildings, in the training of the guards and in the preparation of the internal rules of the prisons.
Rebellion : One who, with use of arms, goes against the constitutional or legal regime in power.
Terrorism : One who terrorizes the community.

The crime of rebellion is punishable by 6 to 10 years of prison.  Within the last few years, this accusation is used less ans less against guerilla organization members.  They are now charged with other crimes like « terrorism », punishable by 40 years in prison.  The crime of rebellion is then used to criminalize union activists, students, farmer leaders, natives, a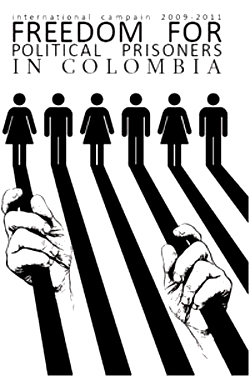 fros, human rights defenders, etc.  Therefore, the accusation of rebellion is used as a mechanism to criminalize  political opposition and social protest, to quiet the members of social movements and civil resistance organizations.  It has now become a tool of the Government to lead a political and legal persecution.

Under the pretext of realizing pacific cohabitation and reconciliation experiments, political prisoners are increasingly placed in the same cells as paramilitaries.  Paramilitary structures are alive in the prisons, be it with alliances with employees of INPEC or by simple control of the establishment administration.
For this reason, the first claim of political prisoners is to demand they be grouped in the same « patio » (floor or section of the establishment) in order to improve their security conditions and to help their organization within the prison. Political prisoners take part in many committees during their imprisonment like Human Rights Defense Committee, Legal Support Committee, Education Committee and Information Committee, to use this time to perfect their political education and continue their battles for social justice inside the repressive structure.  Women's situation is more difficult because they rarely succeed in being grouped and are spread out in the country.
The prison population of Colombia is around 60 000 inmates spread in the different penal institutions of the country.  The majority of those have never been in front of a judge and have not received any sentencing or condemnation.   Out of 60 000 prisoners, only 22 000 were charged, the others being in an investigation process that can take up to 36 months.  However, the Colombian Law prescribes a limited time of 36 hours of detention without judgment.
Living Conditions

Living conditions in the prisons are alarming because prisons are overcrowded.  Recent massive arresting operations are partly to blame.  Acess to decent food or to healthcare is largely lacking.  The situation is getting worse for the political prisoners who are often denied access to training programs or medical controls.

In October 2001, an international Commission carried a visit to 15 prisons of the country, three of which were women's prisons.  The Commission denounced cases of corruption and degrading treatments happening in many establishments, and makes the Colombian Government responsible for that fact in the prisons where the rights to life and human dignity, health, education, food and legal defense are violated.
 
Duration of Imprisonment

With the reform of the Penal Code of 2003, the maximal sentence went up from 40 years to 60 years in prison.  Officially, life imprisonment does not exist.  However, since the sentences are cumulative, a prisoner can receive, for example, 3 sentences of 40 years each, which, in practice, means a life sentence.
Use of Torture
Torture against prisoners is a common practice in transitional detention centers and police stations.  Poor populations and afrodescendants are the first victims of this method.  A common practice is to make a prisoner swallow a bullet which, according to the torturer, was used,a few moments before, to kill or to simulate a violent death.  This type of psychological torture, which does not leave any trace, is mostly used on insurgents and social activists.  To protect itself against delation, the personnel has the arrested person sign a document stating they have received a good treatment.
This campaign was born in 2005 from a solidarity intiative of different social and popular organizations.  This campaign is autonomous and permanent in favor of freedom and the legitimacy of political prisoners' battle, without wanting to create a new organizational entity.

Since 2007, the United States demands the extradition of Colombian political prisoners while this practice is forbidden by the Colombian constitution.  Many have been extradited while others are organizing a campaign to resist it :
« The extradition of citizens of Colombia, Irak, Afghanistan or any other country is a right taken by colonizers to confirm the extent of their power on the whole of the planet and to impose themselves as a world superpolice in front of other imperialist powers. »  www.presospoliticosnoextradicion.org

The prisoners had been protesting conditions in the prison, which are notorious for being the worst in the country. The prison is based on the US prison model, was designed and developed with the assistance of the US Federal Bureau of Prisons, and was built 11 years ago with US funding. Its disciplinary code is strict, and prisoners are routinely subjected to what amounts to systematic torture and cruelty.  Many organizations, like the Committee for Solidarity with Political Prisoners, all agree to recommend the closing of this prison. cierrevalledupar.comitedesolidaridad.com
Case of Diomedes
PASC mostly accompanies certain prisoners whose situation are placing them in a specially vulnerable position.  Diomedes Meneses Carvajalino is one of these cases, having been left for dead by the Colombian army after being tortured.  Today, he is suing his torturers while still being detained.

Case of Luis Eduardo Galvis
In Colombia, there is a common practice involving the legalization and consequent condemnation of political opposers following trials characterized by legal irregularities.  The case of Luis is a good example.  After having served a first sentence, he was condemned for charges already brought against another person : one guilty person, two people accused under the same identity !